1.55" Cretaceous Fossil Crocodile Tooth - Morocco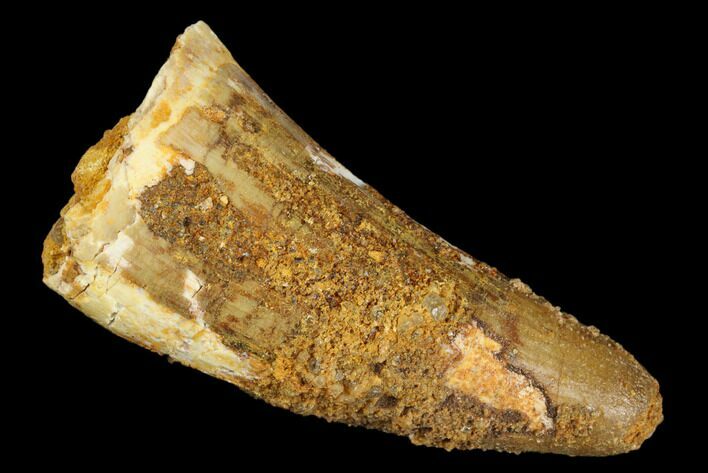 This is a 1.55" fossil crocodile tooth from the Kem Kem Beds of Morocco. This tooth has areas of gap fill restoration and a few repaired cracks throughout.
There are at least six genera known from the Kem-Kem and it is difficult to assign a taxonomic identification because some of the genera are not well described. The genus Elosuchus is the most likely candidate though.
Many teeth from this area are labeled Sarcosuchus but this is highly unlikely. The Kem-Kem Beds are late Cretaceous (100.5-66 mya) deposits, while Sarchosuchus is from the early Cretaceous (145-100.5 mya) and appears to disappear from the fossil record millions of years before the deposition at Kem-Kem had begun.
The Kem Kem Beds are famous for yielding a diverse, Late Cretaceous, vertebrate assemblage including fish, reptiles and dinosaurs such as Spinosaurus. These
fossils
are found in a thin bed that outcrops around the edge of a large plateau near Taouz, Morocco. Local miners collect these fossils by digging narrow tunnels by hand into this plateau following the layer.
A paper on this assemblage can be found at:
Vertebrate assemblages from the early Late Cretaceous of southeastern Morocco: An overview
LOCATION
Taouz, Kem Kem Basin, Morocco