2.1" Fossil Fish (Ichthyodectes) Jaw Section - Kansas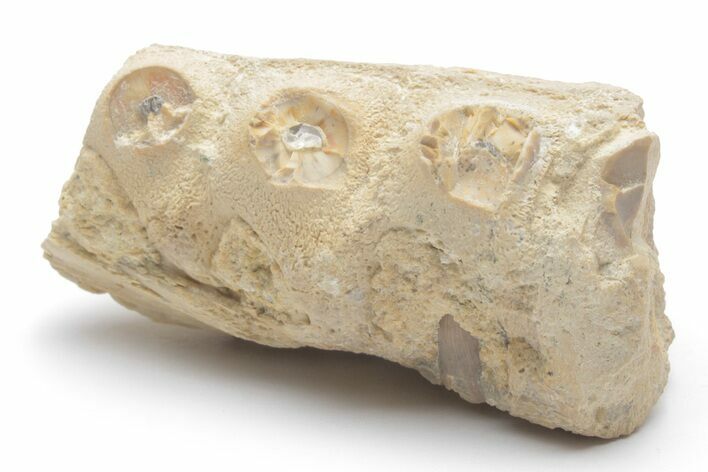 This is a 2.1" wide, fossil jaw section of an Ichthyodectes fish from the Smoky Hill Chalk of Gove County, Kansas. This section features a few tooth roots lining the jaw. This bone has good preservation, and there is very little restoration on this awesome piece.
Ichthyodectes was a bony fish of the order Ichthyodectiformes, which in addition to Ichthyodectes includes the giant, Xiphactinus and smaller Gillicus. Large ichthyodectes grew to more than 10 feet long and were a one of the principle predators of the Western Interior Seaway during the late Cretaceous Period.


The Smoky Hill Chalk Member of the Niobrara Chalk formation is a Cretaceous conservation Lagerstätte, or fossil rich geological formation, known primarily for its exceptionally well-preserved marine reptiles. It outcrops in parts of northwest Kansas, its most famous localities for fossils, and in southeastern Nebraska. Large well-known fossils excavated from the Smoky Hill Chalk include marine reptiles such as plesiosaurs, large bony fish such as
Xiphactinus
, mosasaurs, pterosaurs, and turtles.
SPECIES
Ichthyodectes sp.
LOCATION
Gove County, Kansas
FORMATION
Niobrara Formation