3.6" Cyathocrinites Iowensis - Crawfordsville Crinoid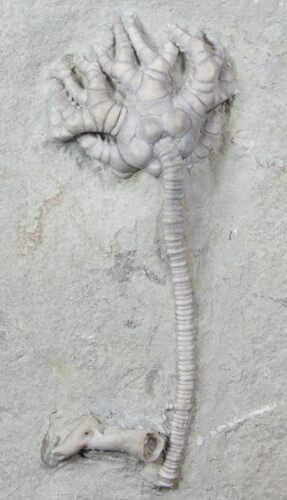 This is an great specimen of the inadunate crinoid Cyathocrinites iowensis. It's 3.6" tall with a long stem and the preparation on this piece is spectacular. Laying next to the base of the stem is some coral of the species Cladochonus beecheri.

The Mississippian aged Edwardsville Formation exposed in Montgomery County, Indiana is world renown for it's amazing crinoids. There are over 60 known species from the formation and when properly prepared they are preserved in beautiful, 3D relief.

SPECIES
Cyathocrinites iowensis & Cladochonus beecheri
LOCATION
Montgomery County, Indiana
FORMATION
Edwardsville Formation
SIZE
3.6" on 4.1x2.8" matrix