8.3" Cretaceous Monster Fish (Xiphactinus) Jaw - Kansas
This is a 8.3" fossil fish (Xiphactinus) dentary (lower jaw) bone from the Smoky Hill Chalk, Gove County, Kansas. It is a well preserved, showing anatomical structures and 9 teeth. All but the two small teeth in the middle of the jaw, have restored tips, however there is no compositing. There is a repaired crack across the proximal/ventral-most end of this jaw. This is the left lower jaw.
Comes with a display stand.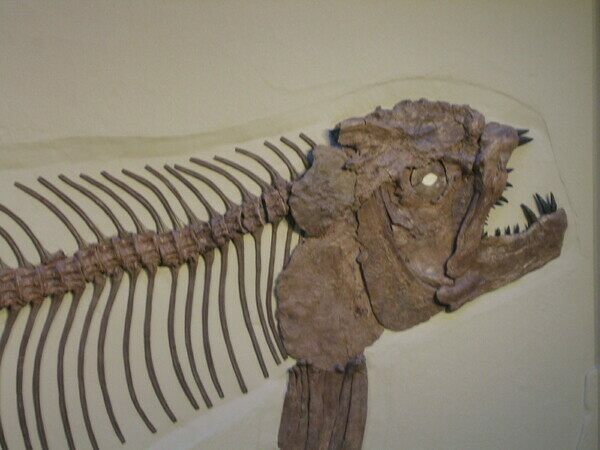 Xiphactinus
was a huge, predatory fish that lived during the Late Cretaceous. It would have been a veracious predator, growing 15-20 feet long. When alive, the fish would have resembled a gargantuan, fanged tarpon. It appeared in the BBC's Sea Monsters and National Geographic's Sea Monsters: A Prehistoric Adventure as well as being labelled a "Prehistoric Terror" in River Monsters.
The Smoky Hill Chalk Member of the Niobrara Chalk formation is a Cretaceous conservation Lagerstätte, or fossil rich geological formation, known primarily for its exceptionally well-preserved marine reptiles. It outcrops in parts of northwest Kansas, its most famous localities for fossils, and in southeastern Nebraska. Large well-known
fossils
excavated from the Smoky Hill Chalk include marine reptiles such as plesiosaurs, large bony fish such as
Xiphactinus
, mosasaurs, pterosaurs, and turtles.
SPECIES
Xiphactinus audax
LOCATION
Gove County, Kansas
FORMATION
Niobrara Formation