This Specimen has been sold.
Bargain, .69" Raptor Tooth - Morocco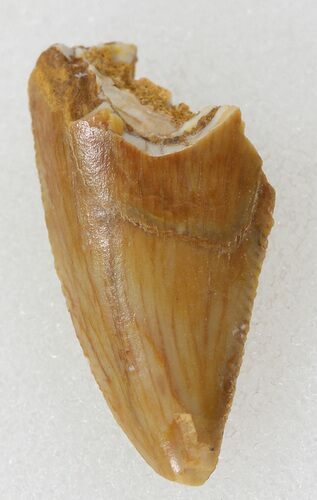 This is an authentic raptor tooth from the Late Cretaceous Kem Kem Beds (formerly Tegana Formation) of Morocco. These small theropod dinosaurs from the Tegana Formation have yet to be described, primarily due to lack of articulated bone material having been found. Because of this it's impossible to accurately give a species or even genus ID to these teeth. These teeth are most commonly attributed to a type of Dromaeosaur though it's more likely they from some type of Abelisauridae.

The tooth is average in size tooth at around 3/4" long with many of the serrations are still visible. The tooth has a nicely preserved tip with minor feeding wear on the tip of the tooth. The bottom of the tooth has a small section missing, hence the bargain price. Comes in a clear acrylic case.
SPECIES
Unidentified Raptor
LOCATION
Taouz, Kem Kem Basin, Morocco