Bargain Deltadromeus Tooth - 1.37 inches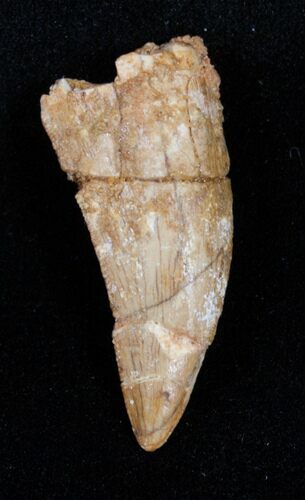 This is a 1.37 inch long theropod tooth from the Cretaceous aged, Tegana Formation of Morocco. The reason I've labeled it as Deltadromeus agilis? with a question mark is this. Deltadromeus was described off of a small amount of material that did not include associated teeth. So it's impossible to assign isolated teeth to the species with 100% accuracy, until they are found associated with a skeleton.

That said, Deltadromeus is believed to be a Ceratosaur and the tooth has many of the hallmarks that would distinguish a Ceratosaur tooth from teeth of the other large theropod described from the Tegana Formation, Carcharodontosaurus. So, it would either be Deltadromeus agilis tooth or a yet to be described large theropod.

The tooth has several repair cracks but no restoration and is otherwise in very nice shape with good enamel.
SPECIES
Deltadromeus agilis?
LOCATION
Taouz, Kem Kem Basin, Morocco
FORMATION
Tegana Formation