Extremely Rare Moroccan Lichid Acanthopyge - 2.65"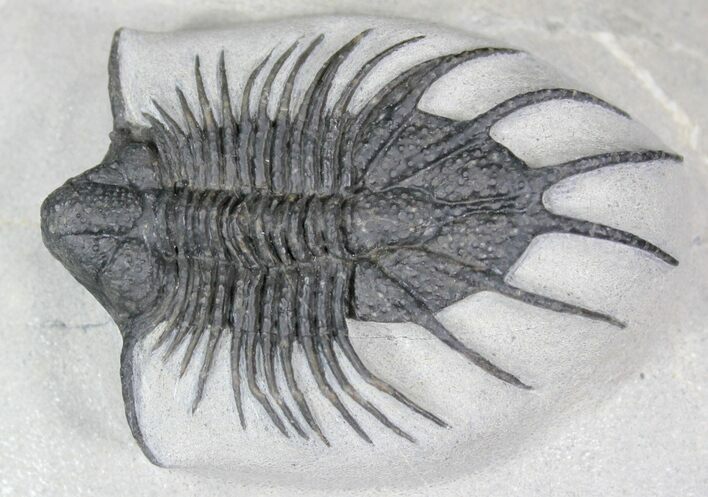 This is an EXTREMELY RARE lichid trilobite from Morocco, Acanthopyge. Real specimens are nearly impossible to acquire because not only are they rare, but they tend to be found disarticulated and the original locality was collected out years ago. This specimen is 2.65" long, has great shell preservation, and is covered in tiny pustules. It comes from the Marakib Formation near Jbel Issomour, Morocco.

Both of the genal spines are composites from the same trilobite. They were found in the matrix right next to it and moved back into place, but otherwise it has not been restored.

Beware: Due to the rarity/value of the trilobite, it's collectability and the fact it doesn't have free standing spines (making it easier to cast) this one of the most frequently faked trilobites out there. I've seen hundreds of fake specimens. In fact this is the first real example I've seen for sale in years that wasn't a composite of multiple individual trilobites.

The original locality for Acanthopyge was collected out many years ago, and there has only been a handful of complete specimens found at a new "secret" locality discovered in the past few years. This is only the second one I've been able to acquire in the past two years.
LOCATION
Jbel Issomour, Morocco
FORMATION
Marakib Formation