Serrated, 1.42" Tyrannosaur (Nanotyrannus) Tooth - Montana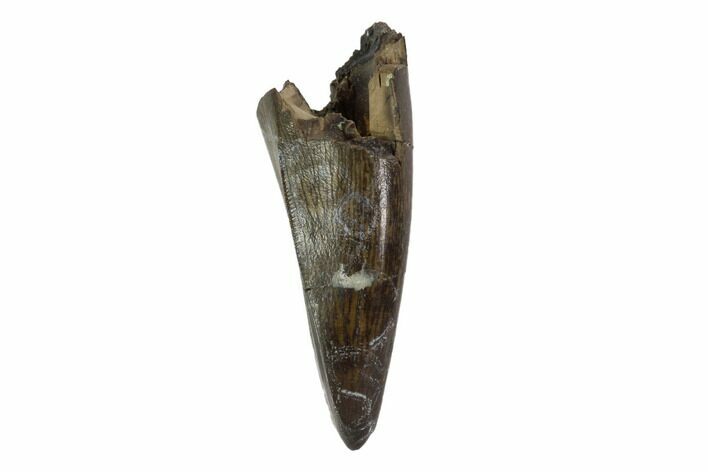 This is a large, 1.42" long Tyrannosaur tooth likely of the species Nanotyrannus lancensis from the Hell Creek Formation of Montana. The enamel of this tooth preserved nicely, however there are multiple repaired cracks. The distal most crack is about 3/5 the way down the tooth and contains gap fill as restoration. The second repaired crack is proximal the root. There is major feeding wear to the tip and one edge, though the serrations remained in decent condition.
Comes with a
floating frame display case
.
There is a hot debate among paleontologists about whether Nanotyrannus and Tyrannosaurus rex (T-Rex) are really the same species, with Nanotyrannus representing juveniles. Recent finds that are soon to be published should put this debate to rest, definitively proving that Nanotyrannus is in fact a separate genus and valid genus. Nano teeth tend to be much more finely serrated, and much thinner/blade like t-rex teeth, in addition to being smaller.
SPECIES
Nanotyrannus lancensis
LOCATION
Carter County, Montana
FORMATION
Hell Creek Formation
SIZE
1.42" long (straightline)