This Specimen has been sold.
Wholesale Flat: 1-2" Polished Rhodochrosite Slices - 72 Pieces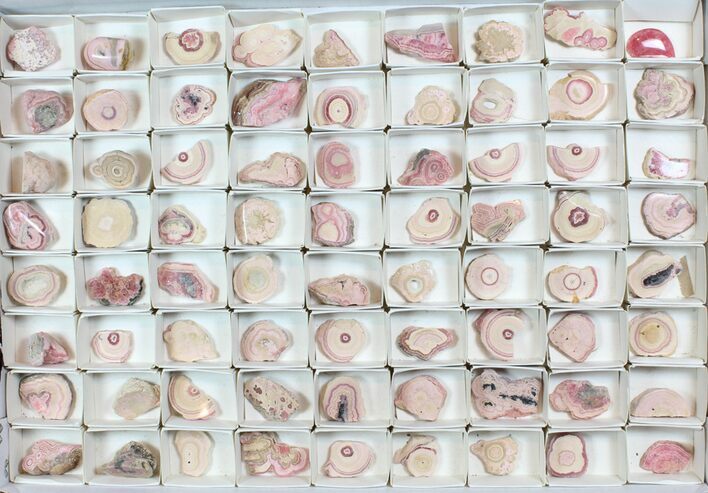 We just launched our new wholesale areas. Check out the
wholesale fossils, minerals & crystals
section for more listings. Very little of the wholesale inventory that we currently have in stock is listed on the website. If there is something specific you are looking for, or if you are looking to purchase different quantities, please contact us at
wholesale@fossilera.com
or
(866) 550-2013
This is a wholesale lot of
72
polished, Rhodochrosite stalactice slices. They range from 1-2" across and probably average about 1 1/4". They are all polished at least on one side, most on both sides.
At the wholesale cost of $360, each piece is $5 and they can easily retail for several times that on average.
Rhodochrosite is a manganese carbonate mineral with them chemical composition MnCO3. The crystals typically have a pink-red coloration and cleaves with rhombohedral cleaving in three directions. It forms from hydrothermal pockets and can be found as both crystals and in banded formations.
LOCATION
Santa Rita Mine, Capillitas, Catamarca Province, Argentina
SIZE
72 Pieces, 1-2" wide, most around 1.25"