Wholesale Lot: Large Otodus Shark Teeth In Rock - 10 Pieces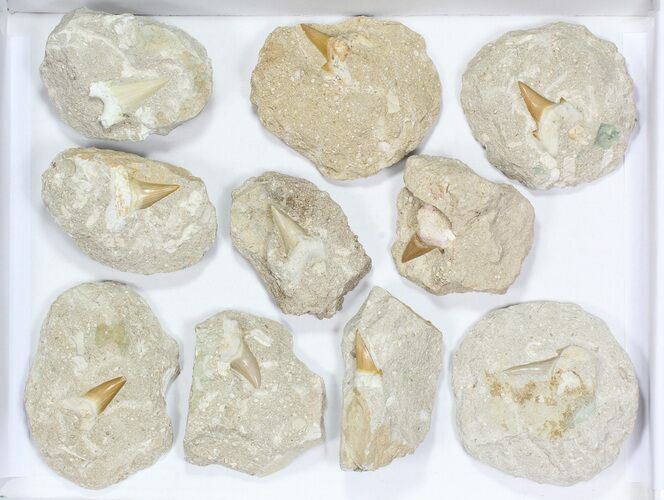 We just launched our new wholesale areas. Check out the
wholesale fossils, minerals & crystals
section for more listings. Very little of the wholesale inventory that we currently have in stock is listed on the website. If there is something specific you are looking for, or if you are looking to purchase different quantities, please contact us at
wholesale@fossilera.com
or
(866) 550-2013
This is a wholesale lot of
10
very large, fossil Otodus shark teeth still embedded in the rock they were found in. It's Eocene in age, approximately 54 million years old and comes from the phosphate deposits near Khouribga, Morocco. The teeth are mostly in the 1.5 to 2" size range with some being larger or smaller. Only one looks like it has any repairs.
These teeth are collected during the massive phosphate mining operations. While teeth of Otodus are common
fossils
at the mines, most of them are small and broken.
LOCATION
Khouribga, Morocco
FORMATION
Phosphate Deposits
SIZE
Teeth 1.5 to 2.5" long, Rocks about 4" wide