Wholesale Lot: Vera Cruz Amethyst Clusters - 19 Pieces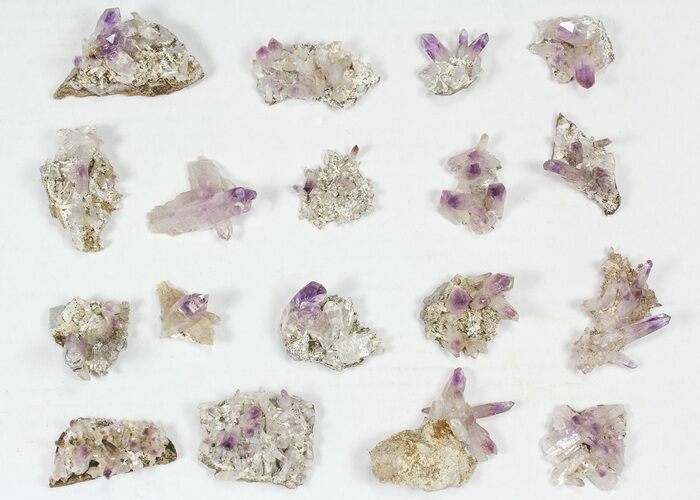 We just launched our new wholesale areas. Check out the
wholesale fossils, minerals & crystals
section for more listings. Very little of the wholesale inventory that we currently have in stock is listed on the website. If there is something specific you are looking for, or if you are looking to purchase different quantities, please contact us at
wholesale@fossilera.com
or
(866) 550-2013
This is a wholesale lot of
19
gorgeous, amethyst crystal clusters from Las Vigas, Mexico. The amethyst has often been misidentified as coming from Vera Cruz, Mexico leading to it commonly being referred to as Vera Cruz amethyst. Due to violence and instability in the region this material is getting much harder to acquire recently.
The clusters in this lot range from 1.3 to 2.5" wide with individual points on the clusters up to an inch long. At the wholesale price, it works out to about $12.30 per cluster and they can easily retail for 2-3 times this on average.
Amethyst is a purple variety of quartz (SiO2) which gets its violet color from irradiation, iron impurities, and the presence of trace elements, which result in complex crystal lattice substitutions.
SPECIES
Quartz var. Amethyst
LOCATION
Las Vigas, Mexico
SIZE
19 pieces, 1.3 to 2.5" wide