2.8" Shiny, Cubic Pyrite Crystal Cluster with Quartz - Peru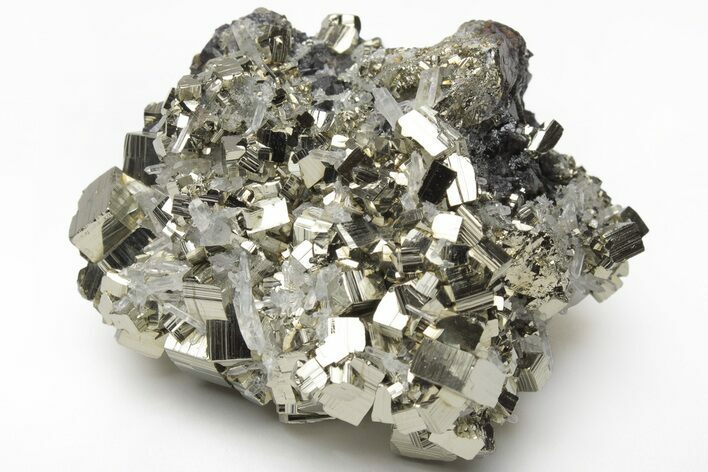 This is gorgeous cluster of gleaming, cubic pyrite crystals with quartz, collected from the Huanzala Mine in Peru. The entire specimen measures 2.8" wide.
Comes with an acrylic display stand.
Pyrite or iron pyrite is commonly referred to as Fool's Gold because it's metallic luster and pale brass-yellow hue give it a superficial resemblance to gold. In the old mining days, Pyrite was sometimes mistaken for Gold. Pyrite is the most common of the sulfide minerals with the chemical formula FeS2. Pyrite crystals occur in many shapes and habits. Smaller (druzy) crystal aggregates may give off beautiful glistening effects, and larger crystals may be perfectly formed, including fascinating cubes, penetration twins, and other interesting crystal forms.
The Huanzala mine in Bolognesi Province, Áncash, Peru is an excellent example of a mine with exceptional quality, variety, and availability. Traditionally a lead-zinc mine, Huanzala holds the record for the most mineral tonnage extracted by a single mine. This is quite the feat and it's easy to see why minerals from this locality are so aggressively mined and collected.
This mine has a multitude of awesome minerals, from sharply terminated quartz, to sparkly
pyrite
, bubbly
aragonite
and dense
galena
. Other common minerals are
realgar
,
orpiment
,
sphalerite
, chalcopyrite,
manganoan calcite
, rhodonite, cassiterite,
barite
,
fluorite
and
fluorapatite
, among other less prevalent minerals. Mineral associations from this mine often contain three to four minerals that look phenomenal growing all over one another.
LOCATION
Huanzala Mine, Huallanca District, Bolognesi Province, Peru