TIGER'S EYE SKULLS FOR SALE
Beautiful, polished,
crystal skulls
made from Tiger's Eye, a chatoyant gemstone with alternating banks of golden to red-brown colors and a silky luster. It has a fascinating and constantly shifting light effect where the gold and brown bands appear to keep reversing as the stone is moved relative to the light source.
No items matching your criteria...
Try the parent category
What Gives Tiger'S Eye It'S Fascinating Color Play?
Tiger's Eye or Tiger Eye has a stunning chatoyant effect where the alternating bands of color appear to reverse as the stone or light source is moved. This effect is caused by the light reflecting off of microscopic fibers of crocidolite (a blue form of asbestos) within the stone. Within the bands in Tiger's Eye these fibers are aligned in the same direction and the light is reflected perpendicular to the direction of the fibers. The effect can be likened to the sheen off a spool of silk and can be enhanced by polishing the stone.
What Gives Tiger'S Eye It'S Color?
While Tiger's Eye's chatoyance is caused by fibers of crocidolite, the golden/red/brown color is due to iron oxides (primarily Limonite) staining the surface of these fibers. If the fibers have not been stained with iron oxides the stone will instead take on a blue color.
Where Is Tiger'S Eye Found?
Tiger's Eye is found within iron ore formations since staining from iron oxides is needed to create its color. Nearly all of the Tiger's Eye on the market comes from either South Africa or Western Australia. It can also be found in Burma, India, Namibia, Brazil, Canada, and several places in the United States.

The vast majority of Tiger Eye is mined in South Africa near the town of Prieska in the Northern Cape Province. The tiger's eye is unevenly distributed and occurs as lenses of various sizes, interbedded in gently folded metasedimentary rocks of mostly banded iron formation (BIF). The terrain in mountainous and the mining operations are fairly small scale. More information can be found here and here.


Fun Fact:
Before the discovery of large deposits in South Africa, Tiger's Eye was considered almost as valuable as gold.
Western Australia is another important source of Tiger's Eye and is where some of the exotic varieties such as Marra Mamba are found. It is mined from the remote Hamersley Ranges of the Pilbara region. The area is iron ore which was deposited around 2.7 billion years ago and Tiger's Eye is found in a few small areas within these deposits. The most famous location is near
Mt. Brockman
where a 6 mile long, ridge of hills has produced extremely nice material from a number of small deposits.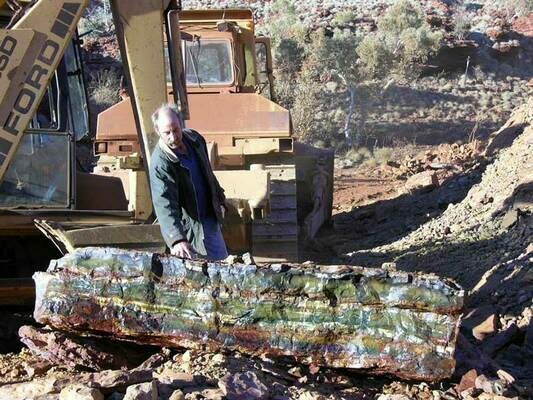 Large block of Tiger's Eye found during mining near Mt. Brockman. Photo from
Outback Mining
How Is Tiger'S Eye Formed?
Since the 1870's, geologists believed that tiger's eye was a pseudomorph where quartz replaced crocidolite - a blue form of asbestos. They believed that quartz replaced most of the crocidolite, and the remaining asbestos provided the bluish color. The stone then weathered/rusted causing the surfaces of the remaining crocidolite to become coated in iron oxides creating the golden color.

This theory was accepted as fact until the early 2000's when some scientists studying pseudomorphs put a piece of South African tiger's eye under a scanning electron microscope. They found no evidence that tiger's eye was a pseudomorph, but rather proposed it was formed through a discontinuous crack-seal mechanism.


The crack-seal mechanism that forms tiger's eye begins when a quartz rock containing some crocidolite cracks. Water containing the minerals necessary to make both quartz and crocidolite seep into the crack. Quartz begins to grow on the crack surface, while crocidolite fibers begin to grow from pieces of crocidolite that are on the crack surface. The crack area fills with new material and then the rock cracks again, usually in a sliding motion along the existing crack surface because it is weaker than other areas.

The new crack fills the same way, but the crocidolite fiber is slightly offset because of the crack shear. This process forms bands of quartz with diagonal, discontinuous crocidolite fibers creating hawk's eye. After some of the iron in the crocidolite oxidizes, the material becomes the familiar shades of brown and gold of tiger's eye.
References:
https://www.eurekalert.org/pub_releases/2003-04/ps-sot032803.php
https://blogs.scientificamerican.com/rosetta-stones/tiger-s-eye-a-deceptive-delight/?redirect=1
http://www.quartzpage.de/eyes.html
Variations Of Tiger'S Eye?
In addition to the commonly seen golden Tiger's Eye, there are several variations that form, often in the same deposits.

Red Tiger's Eye: It has a lot more iron staining than golden Tiger's Eye causing a more reddish color.

Blue Tiger's Eye or Hawk's Eye: The crocidolite fibers in the stone have very little iron staining so their original bluish color is seen.

Marra Mamba: A rare type of Tiger Eye found only in the Hamersley Ranges of Western Australia that contains bands of many different iron based minerals and has been heavily distorted due to faulting and folding within the earth.

Tiger Iron: Also known as Tiger's Eye matrix, Tiger Iron is a banded rock with alternating bands of Tiger's Eye, grey hematite, red jasper and yellow limonite.

Is Tiger'S Eye A Natural Stone?
Yes, Tiger's Eye is a natural stone. Most Tiger's Eye is untreated, but some Tiger's Eye gemstones will sometimes be treated via heat to darken it's color or with nitric acid to lighten its color.
Is Tiger'S Eye The Same As Cat'S Eye?
No, Tiger's Eye and Cat's Eye are two different stones. Cat's Eye is the mineral chrysoberyl which displays a similar chatoyant effect but is an aluminate of beryllium as opposed to being quartz based.
What Is Tiger'S Eye Used For?
Tiger's Eye is considered a semi-precious gemstone and is mostly used in jewelry and as a lapidary material. In some parts of the world, the stone is believed to ward off the evil eye and it has become popular with the metaphysical and healing crystal community.
Tiger's Eye Contains Asbestos, Does That Make It Dangerous?
Asbestos fibers are hazardous because the tiny fibers can get inhaled, lodge themselves in the lungs and cause lung cancer. In tigers eye these fibers are safely entombed within the quartz and pose no threat of inhalation.