Top 10 Paleontology News Stories Of 2019
It's been an exciting year in the world of paleontology, from a new human species to new feathered dinosaurs! As the year ends, take a peek at some highlights in Paleontology from 2019.
1. New Fossil Discovery Shows The Rapid Rise Of Mammals After KT Extinction
An extraordinary fossil site has been discovered this year in Colorado. It contains numerous mammal fossils from a mere one million years after the dinosaur extinction event. Prior to this, only small fragments of mammal fossils have been found. This new site provides a clear picture of the surprisingly rapid mammal rebound and diversification into numerous ecological niches in the post-apocalyptic world without dinosaurs.
Read more...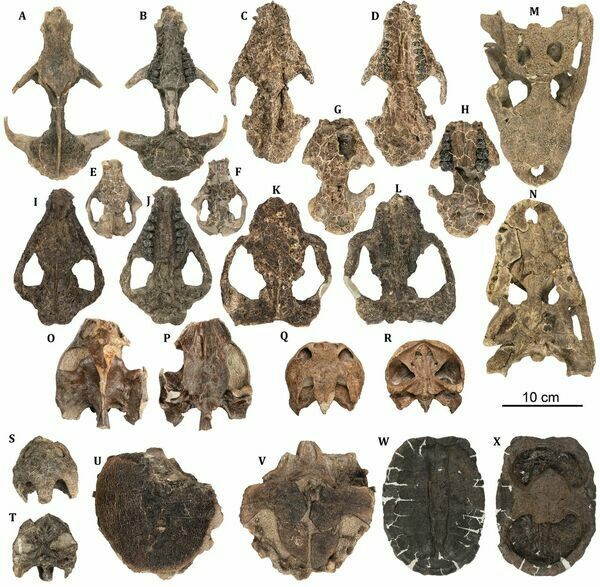 2. Newfound fossils in China highlight a dizzying diversity of Cambrian life
Along the banks of China's Danshui River lies a treasure trove of fossils that may rival the most famous Cambrian fossil assemblage of all, Canada's Burgess Shale. So far, researchers led by paleontologist Dongjing Fu of Northwest University in Xian, China, have collected 4,351 specimens at the new site, representing 101 different taxa, or groups of organisms. Of those taxa, about 53 percent have never before been observed.
Read more...
3. Woops, The First Bird Feather Ever Discovered Was Not From Archaeopteryx, But a Dinosaur!
The first fossil feather, discovered 150 years ago, was assumed to be from the ancient bird Archaeopteryx. However, a new Laser-Stimulated Fluorescence method was used to study the fine details of this feather. It was found this feather did not come from an Archaeopteryx, or even a bird at all, but some type of feathered dinosaur.
Read more...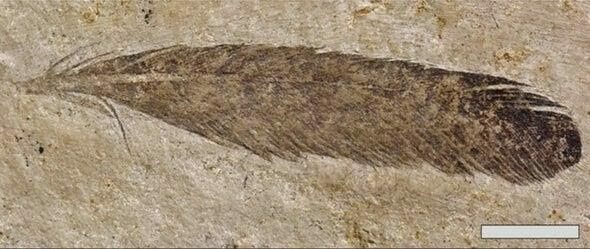 The feather originally described as Archaeopteryx is now known to be a dinosaur feather. Image Credit: Kaye et al 2019
4. New Species of Ancient Human Discovered
This year we welcomed another human species to our family tree. 50,000 years ago, Earth was full of different humans. There were us (H. sapiens), Neanderthals, Denosovians, the Indonesian Hobbits (H. floresiensis), and now H. luzonensis. An ancient foot bone and other human bone fragments found in a Philippine cave could not be matched to any known human species. The scientists named this new human H. luzoensis and is currently excavating other nearby caves to piece together details of this mysterious family member.
Read more...
5. 66 million-year-old deathbed linked to dinosaur-killing meteor
This may be one of the most controversial discoveries of 2019, but if it holds weight, it's an incredible discovery. A location known as the Tannis site in North Dakota has preserved tsunami debris from the asteroid impact that ended the Cretaceous 66 million years ago. Theses debris include fish, wood, insects, and dinosaurs, piled on top of one another. Also present are glass beads embedded in the fossils and the sediment. These glass beads from the asteroid impact rained down from the skies between tsunami waves. The Tannis site is a virtual killing field that preserves the day of the famous asteroid impact.
The problem with this site is the research paper published by the team only mentions fish fossils and one worn dinosaur hip bone. In the interview, the paleontologists mention dinosaur feathers, eggs, and other oddities. Hopefully soon, more research papers will come out on this site.
6. Extraordinary skull fossil reveals secrets of snake evolution
Even a small fossil discovery can turn paleontology on its head. Such is the case of early four legged snake fossils from Argentina called Najash rionegrina. For nearly 160 years, it was assumed snakes evolved from small burrowing wormlike lizards. However, the skull bones and other anatomical features of these new fossils indicate they evolved from large bodied, large mouthed lizards, and they retained their legs for longer than thought. This counterintuitive discovery rewrote snake evolution!
Read more...
7. World's Biggest Tyrannosaurus rex discovered
Paleontologists revealed "Scotty", a T. rex that lived in Saskatchewan 66 million years ago. At 13 meters (42.6 feet) long Scotty is now the largest T. rex ever discovered. If you cannot make it to the Royal Saskatchewan Museum to see it, you can visit "Sue" at the Chicago Field Museum, which is nearly identical in size. Will a larger one be found in the future?
Read more...
8. Megalodon extinction date revised and did great whites kill them off?
It turns out, one of the most famous prehistoric sharks of all time died out earlier than thought. Previous assumptions placed the megalodon extinction around 2.6 million years ago. However, a new study sampled megalodon teeth fossils from California, Baja, and worldwide datasets and to their surprise found no megalodon fossils younger than 3.6 million years old. This means megalodon went extinct a full 1 million years earlier than previously thought.
Read more...
9. First Evidence of a Feathered South Pole Dinosaur
Dinosaurs living at the South Pole probably had feathers for insulation; however, none have been found until now. The new findings include ten dinosaur feathers from the Early Cretaceous of Australia. At that time, Australia was much farther south and was connected to Antarctica. This is the first concrete evidence of feathered dinosaurs living in the south Polar Regions.
Read more...
10. Scientists uncover world's oldest forest
At 385 million years old, the official world's oldest forest was just researched in Cairo, New York. This beats the previous record in Gilboa, New York by roughly 5 million years. Preserved are a maze of roots on an old quarry floor that belongs to early trees including Archaeopteris. The complexity of the webs of fossil roots are astounding paleontologists!
Read more...
RELATED ARTICLES