Iridescent, Pyritized Ammonite Fossils - 1" to 1 1/4"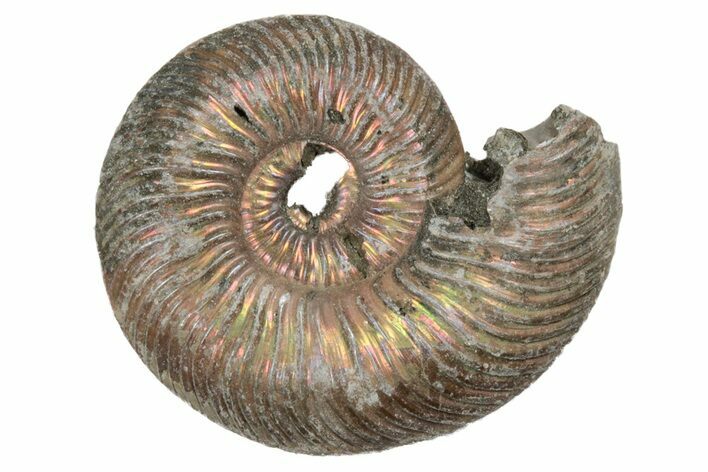 These are beautiful, ~185 million year old iridescent, pyritized ammonite fossils from the Dubki Clay Quarry in Saratov, Russia. They are approximately 1 1/10" in width though they will vary anywhere between 1" and 1 1/4". Most are of the genus Quenstedticeras though there are some other species mixed in.
The photos are representative of the ammonites you will receive but do not picture the exact specimens. Some of these specimens don't exhibit the same iridescent qualities as others due to a lack of preserved shell, however in these cases they will by completely pyritized. Quantity discounts are available.
Ammonites
were predatory mollusks that resembled a squid with a shell. These cephalopods had eyes, tentacles, and spiral shells. They are more closely related to a living octopus, though the shells resemble that of a nautilus. True ammonites appeared in the fossil record about 240 million years ago. The last lineages disappeared 65 million years ago at the end of the Cretaceous.
FOSSIL TYPE
Iridescent, Pyritized Ammonite Fossil
SPECIES
Mostly Quenstedticeras sp.
AGE
Middle Jurassic - Upper Callovian Stage (~185 MYA)
LOCATION
Dubki Clay Quarry, Saratov, Russia