Polished Dinosaur Bone Necklaces - Bone Shape (Light Color)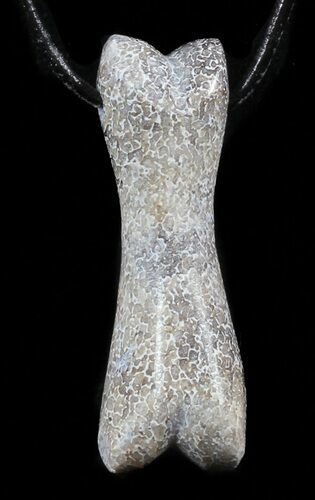 This is a agatized dinosaur bone pendant polished into a bone shape. Each pendant is made out of real dinosaur bone and throughly polished to allow the inner cell structure to be easily seen. Each pendant comes predrilled on one end to allow it to easily slip onto any cord necklace. You will receive one bone shaped pendant chosen at random. These bone pendants make a great gift for anyone. The photos are representative of what the pendants looks like.

Agatized bone, sometimes referred to as "gem bone" is fossilized dinosaur bone in which the original fossil material has been replaced by silica. The impurities within the silica is what gives it the color. For example the red coloration of this bone is caused by iron based compounds. Interestingly this silica replacement often happens at a sub-cellular level leaving the internal structures intact.
TYPE OF FOSSIL
Dinosaur Bone
LOCATION
Bouarfa, Morocco