1.12 Inch T-Rex / Nanotyrannus Tooth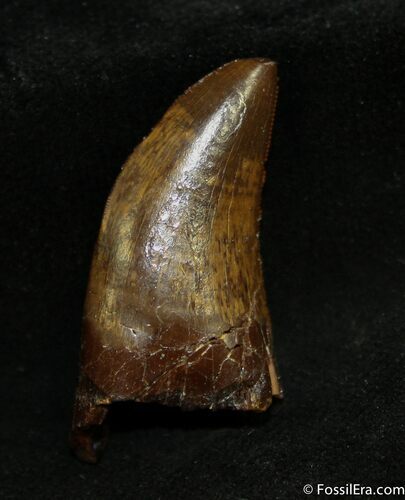 Here is a beautiful Tyrannosaurid tooth from the Hell Creek Formation of South Dakota. There is much debate of whether two Tyrannosaurids from this formation Tyrannosaurus rex and Nanotyrannus lancensis are really the same species which Nanotyrannus just being juvenile T-Rex's (see video).
The tooth has beautiful enamel preservation and good serrations along both edges. It was collected during the summer of 2012 was a private quarry in Butte County, South Dakota. This quarry consists of 2 meters worth of alternating sandstone and gravel, known as a "River Channel Lag Deposit".
SPECIES
Nanotyrannus lancensis or Tyrannosaurus rex
LOCATION
Butte County, South Dakota
FORMATION
Hell Creek Formation