1.30 Inch Long Tyrannosaurid Tooth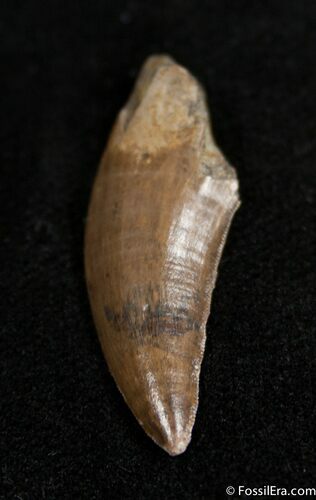 Here is a 1.21 inch long (straight line measurement) Tyrannosaurid tooth from the Hell Creek Formation of Montana. It's of the species Nanotyrannus lancensis though many paleontologies believe that this species actually just a juvenile T-rex. See Jack Horner video below.
The enamel is very nice on one side of the tooth, and the other side has some etching from plant roots. The serrations are worn just still visible, and the tooth has a partial root. There has been no restoration or repair done to the tooth. It comes from a river channel deposit on private land in Carter County, Montana.
SPECIES
Nanotyrannus lancensis or Tyrannosaurus rex
LOCATION
Carter County, Montana
FORMATION
Hell Creek Formation