1.61" T-Rex (Tyrannosaurus rex) Tooth - Feeding Damage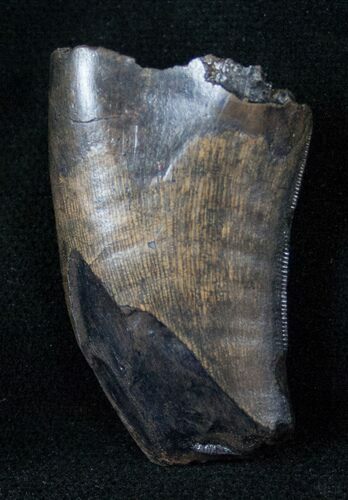 This is an authentic Tyrannosaurus rex (T-Rex) tooth collected from the Hell Creek Formation in Powder River County, Montana. The tip of the tooth exhibits massive feeding damage from when the dinosaur was still alive. It appears the tip was sheered off, presumably from hitting bone and then there is additional feeding wear that took place after the damage.

The tooth is 1.61" long and would be closer to 2 1/2" long had the tip not been damaged. There are really nice serrations preserved on the inner edge of the tooth and it has good enamel preservation. No restoration or repairs have been done to this tooth.
SPECIES
Tyrannosaurus rex
LOCATION
Powder River County, Montana
FORMATION
Hell Creek Formation