1.8" Fossil Ankylosaur Scute Section - Aguja Formation, Texas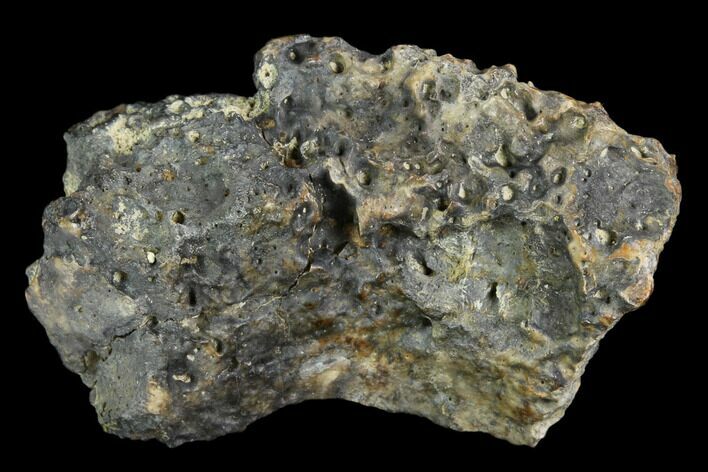 This is a 1.8" Ankylosaur scute section (armor plate) from the Aguja Formation in Texas. Scutes are bone plates that are covered with skin and give the Ankylosaur a form of body armor. They are found today, on alligator, crocodiles and a number of other reptiles.


Ankylosaurs were herbivorous dinosaurs that lived during the Cretaceous (65 - 68 million years ago). As the evolution of Ankylosaurus progressed, they developed bony armor that covered their bodies in the form of plates, scutes and spikes, with some even developing armor on their eyelids. While their armor and bone shattering tail club are thought to have been used for defensive purposes against predators such as Tyrannosaurus, it's possible that some of the armor on their head may have been used for display. Adult Ankylosaurs are believed to have reached up to 25 feet in length and a weight of 3.3 tons!
This specimen was collected within the past year on private deeded property in Brewster County, Texas. You won't see any other dinosaur material from the Aguja & Javelina Formations for sale because nearly all of the formation lies within the boundaries of a national park or in Mexico which can not be collected. One of our partners was lucky enough to purchase several hundred acres of ranch land in Texas containing a good exposure of these formations and we will be offering more material from the locality in the future.
SPECIES
Undescribed Ankylosaur
LOCATION
Brewster County, Texas
FORMATION
Aguja Formation