1.8" Pachycephalosaurus Metatarsal And Teeth Association - Montana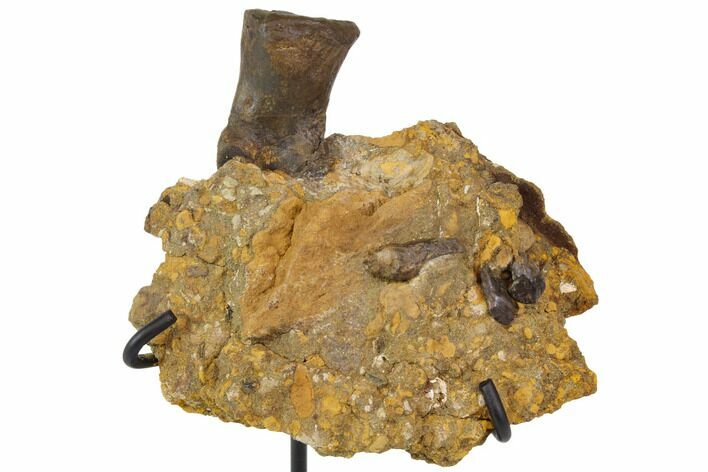 This is a very nice, 1.8" long metatarsal (foot bone), and two teeth of Pachycephalosaurus from the Lance Formation, Montana. The bone is in very good condition with one repaired crack. The teeth are show the lingual (toward the tongue) and labial (toward the cheek) surfaces. The longer tooth is showing the lingual surface. The shorter tooth has been reattached. There is also a scute from an unidentified fish, most likely a gar. Overall this is a very interesting piece. How did a land animal like Pachycephalosaurus end up in the same spot as the aquatic gar?
Pachycephalosaurus was a medium sized herbivorous bipedal dinosaur from the latest Cretaceous North America, notably including the Hell Creek Formation. Pachycephalosaurus is a genus that has had much controversy taxonomically. The two contemporaneous genera stygimoloch and dracorex have undergone much scrutiny to determine whether they are valid species or if they are actually juvenile growth stages of Pachycephalosaurus. Most current consensus suggests that they are, making Pachycephalosaurus the predominant Pachycephalosaur of the Hell Creek Formation.
Comes with the pictured stand.
SPECIES
Pachycephalosaurus wyomingensis
FORMATION
Lance Formation
SIZE
1.8" metatarsal, .6" longer tooth, .9" scute, 4.7 x 3.6" rock