1.9" Monster Fish (Pachyrhizodus) Pre-Maxillary Bone - Kansas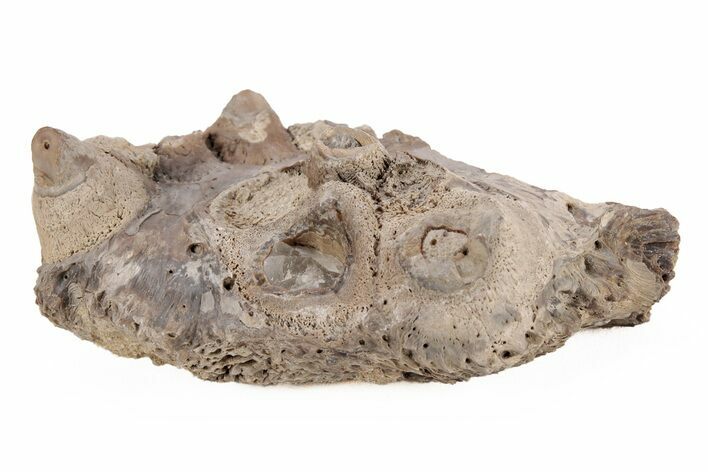 This is a 1.9" long, pre-maxillary bone section from Pachyrhizodus, a very large ray finned fish that inhabited the Western Interior Seaway some 80 million years ago. This bone sits front and center in the upper jaws and holds the massive fang-like teeth in place. It was collected from the Smoky Hill Chalk in Gove County, Kansas. This is a very cool specimen with dental roots preserved.
This specimen is accompanied by an acrylic display stand.
The Smoky Hill Chalk Member of the Niobrara Chalk formation is a Cretaceous conservation Lagerstätte, or fossil rich geological formation, known primarily for its exceptionally well-preserved marine reptiles. It outcrops in parts of northwest Kansas, its most famous localities for fossils, and in southeastern Nebraska. Large well-known fossils excavated from the Smoky Hill Chalk include marine reptiles such as plesiosaurs, large bony fish such as
Xiphactinus
, mosasaurs, pterosaurs, and turtles.
SPECIES
Pachyrhizodus sp.
LOCATION
Gove County, Kansas
FORMATION
Niobrara Formation