11.5" Free-Standing, Green Jasper Replaced Petrified Wood - Oregon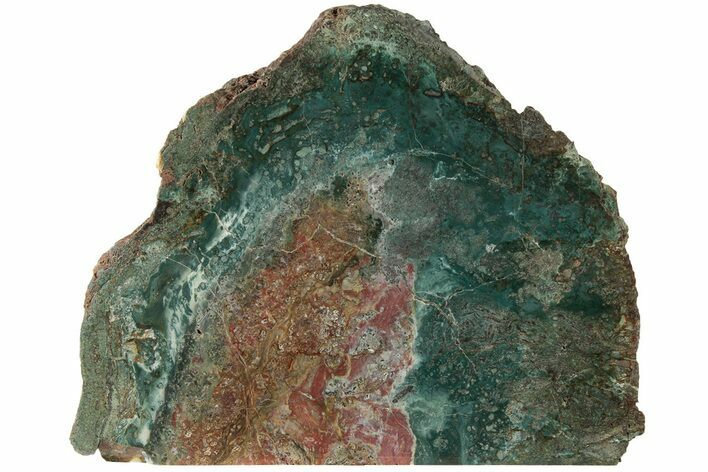 This is a brilliant, green section of jasper replaced petrified wood from Hampton Butte, Oregon. The jasper replacement leaves a beautiful coloration with hues of greens and blues, but unfortunately destroys the detail that would allow for the type of tree to be identified. This section has been polished to a mirror-like finish on one side and the base cut flat so that it displays nicely on a flat surface.
The piece is 11.5" wide, 9.2" tall and up to 3.2" deep, weighing 12 lbs.
Hampton Butte petrified wood comes in a variety of colors, but it is specifically the turquoise and dark green variants that draw collectors to specimens from this area. This wood is explicitly collected from Hampton Butte, a geologic formation located in Deschutes County of central Oregon. Hampton Butte wood is distinguished by outer portions that are a rich brown and white mix with a multi-colored agate, jasper or common opal interior core. The highly sought after green colors are thought to be a result of localized oxidation and reduction of iron content while the wood fossilized. Other portions of the wood, specifically those that are filled by chalcedony, sport red, gold and blue colors in addition to, or alongside, the green coloring.
AGE
Eocene

LOCATION
Hampton Butte, Oregon
SIZE
11.5" Wide, 9.2" Tall, Up to 3.2" deep