14.5" Xiphactinus Lower Jaws - Terror of The Cretaceous Seas!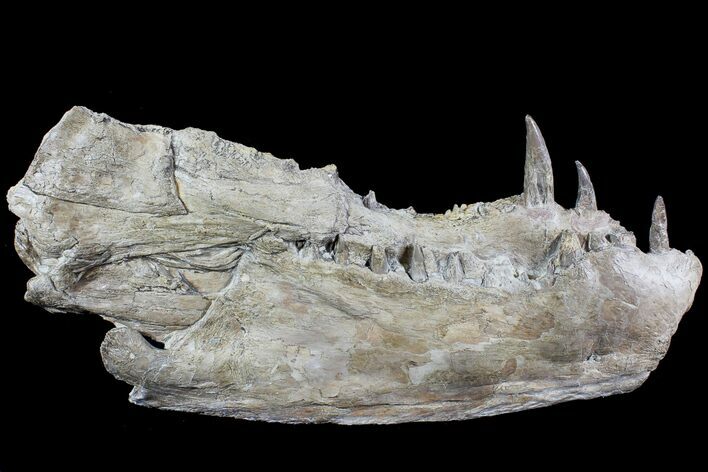 This is an awe inspiring, lower jaw (both sides) of the terror fish of the Cretaceous seas, Xiphactinus audax. It's 14.5" long so it would have come from a monster, fanged fish around 15 feet in length. It was collected recently from the Late Cretaceous, Niobrara Formation of Kansas. Very nice preservation and preparation with 7 complete teeth visible. The three larger fangs are are composites meaning they are real Xiphactinus teeth but teeth from a different specimen were added since the original teeth were damaged.
Comes with a display stand.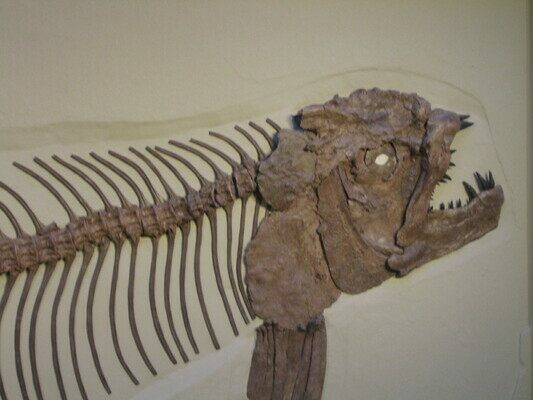 Xiphactinus was a huge, predatory fish that lived during the Late Cretaceous. It would have been a veracious predator, growing 15-20 feet long. When alive, the fish would have resembled a gargantuan, fanged tarpon.
Xiphactinus has appeared in the BBC's Sea Monsters and National Geographic's Sea Monsters: A Prehistoric Adventure as well as being labelled a "Prehistoric Terror" in River Monsters.
SPECIES
Xiphactinus audax
LOCATION
Gove County, Kansas
FORMATION
Niobrara Formation