21.5" Camptosaurus Tibia With Custom Metal Stand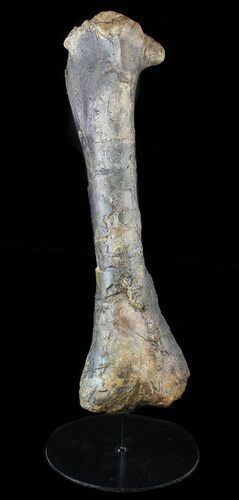 This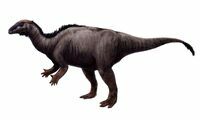 Artists reconstruction of Camptosaurus. By Michael B. H.
is a nicely preserved, 21.5" long tibia from the Late Jurassic, beaked, plant-eating dinosaur Camptosaurus. It was collected this past year from our partners private quarry east of Dinosaur, Colorado.
The bone quality is quite nice as it was found mostly encased in a hard sandstone, which had to be mechanically removed. There is the usual repairs and small crack fills needed on any Morrison Formation material, but no major areas of restoration.
Camptosaurus
is a relatively heavily built, plant eating dinosaur from the Jurassic Period. It had robust hindlimbs, broad feet and a pointed snout, equipped with a beak. Adults could reach up to 25 feet in length.
LOCATION
Near Dinosaur, Colorado
FORMATION
Morrison Formation
SIZE
Bone 21.5" long, 24" tall on stand