30" Incredible Fossil Turtle (Emydoidea) Mortality - Nebraska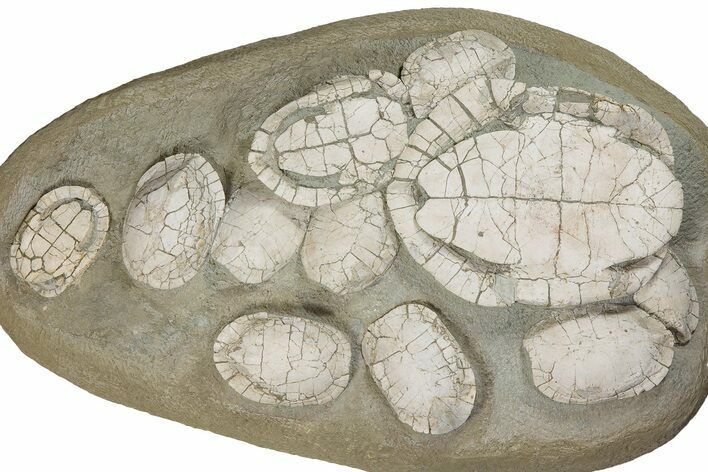 This is a truly one of a kind mortality plate of fossil turtle (Emydoidea hutchisoni) from Cherry County, Nebraska. This piece which was collected decades ago had been part of a major fossil collection and we were able to recently acquire it. There are twelve individuals present on the 30" wide section of rock with the largest one being just under a foot long. Three are preserved ventrally while the remainder are dorsal. Restoration is very minimal, probably representing only about 2-3% of the shell in total. You will probably never see a piece like this again.
Please note these aren't the fairly abundant turtle fossils you see from the White River fauna. These come from a formation in Nebraska which is about half the age and are very rare. In fact the Emydoidea genus was only just described in 1995 off of a single individual.
Due to the size and weight of this piece it will be shipped on a pallet or in a crate via freight. Our website can't automatically calculate freight shipping costs so these costs will be calculated and billed after purchase. Please contact us prior to purchase if you need a shipping quote.
SPECIES
Emydoidea hutchisoni (Holman, 1995)
LOCATION
Cherry County, Nebraska
SIZE
Rock 30 x 19 x 6.5", Largest Turtle 11.5"