4.4" Ornithomimus Caudal Vertebra - Montana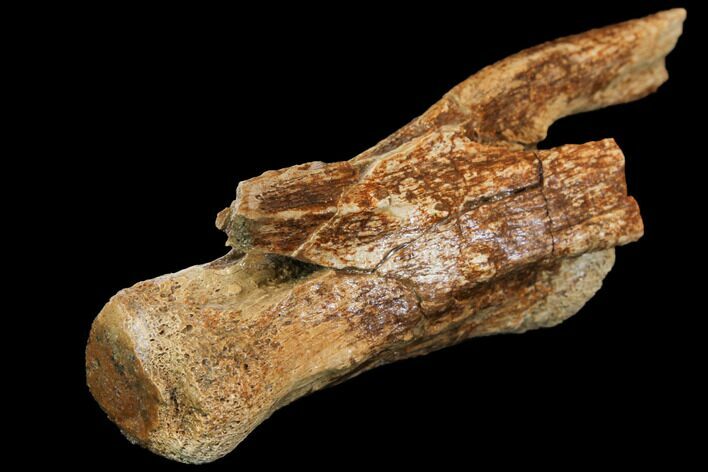 This is a 4.4" fossil theropod dinosaur (Ornithomimus) caudal vertebra from the Hell Creek Formation, Montana. It is in very good condition and includes the vertebral arch and the right transverse process. There are a number of repaired cracks, but the bone is stable and makes a very nice display.
Ornithomimus was a swift bipedal theropod, fossil evidence indicates was covered in feathers. It had a small toothless beak and clawed front appendages, that may indicate an omnivorous diet.


Because of its age and sedimentary composition composition, the Hell Creek Formation has become one of the most paleontological studied areas in the world. 158 genera of animals and 64 genera of plants are known from the formation and new discoveries are made frequently. In addition to Tyrannosaurs, Ceratopsids, and hadrosaurs, the formation has yielded remains of amphibians, reptiles, including lizards, snakes and turtles, fish and sharks, avian and non-avian dinosaurs, and mammals. The Hell Creek Formation gives the most complete understanding of the environment just before the Cretaceous-Paleogene extinction.

FORMATION
Hell Creek Formation