4.5" Fossil Gar Fish Scales (Composite) - Kem Kem Beds, Morocco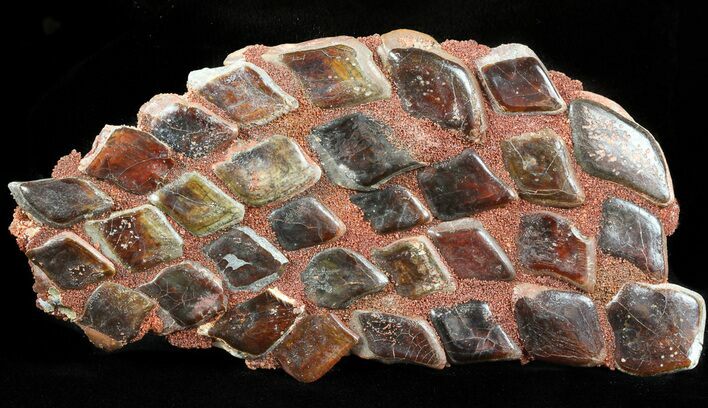 This is a composite piece of fossil gar fish scales from the Cretaceous Kem Kem Beds of Morocco. The 27 fossil scales which were found individually where composited together to create an approximation of what the gar fishes exterior would look like. The scales are a deep red color, many of them naturally very shiny.
There scales were collected from the Kem Kem Beds in Southern Morocco. The Kem Kem Beds includes a diverse assemblage of both fish and dinosaurs such as Spinosaurus which would have likely preyed upon they large Gars.
A paper on this Late Cretaceous fish assemblage can be found at:
Taxonomic Composition and Trophic Structure of the Continental Bony Fish Assemblage from the Early Late Cretaceous of Southeastern Morocco
LOCATION
Taouz, Kem Kem Basin, Morocco
SIZE
Entire Piece 4.5" wide, Largest scale .8" wide