Huge, 44" Kritosaurus Tibia With Stand - Aguja Formation, Texas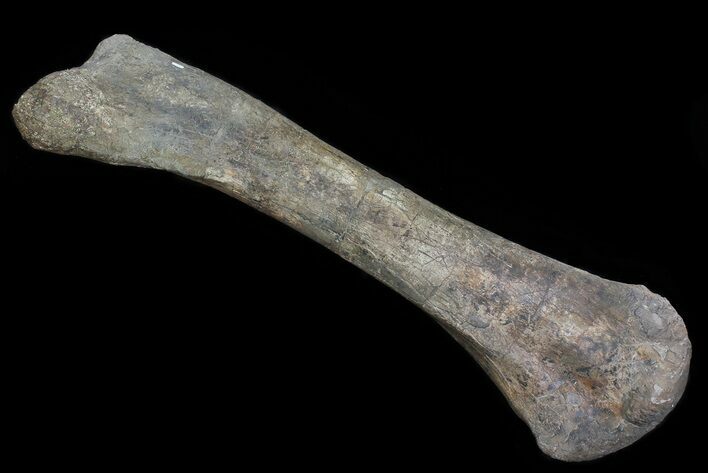 This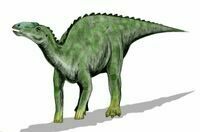 Artist reconstruction of Kritosaurus
is an absolutely massive tibia of Hadrosaur (most likely Kritosaurus) from the Aguja Formation of West Texas. It is 44" long, weighs 81 lbs and comes with a custom, powder coated stand. The bone is in excellent condition and very dense. There is some crack repairs in the mid-section along with some gap fills and some surface restoration to one end where there was some erosion.
The bone is shipped in a custom wooden crate and because of it's size will likely have to be shipped via freight. Shipping costs will be calculated and billed separately after purchase. If you need a quote prior to purchase, please contact us.
We tentatively are saying this is Kritosaurus because relatively little work has been done on the Aguja Formation and that is the one Hadrosaur that has been formally described. Finds made on the property just this spring, point to the potential presence of multiple types of large Hadrosaurs within the formation.
This specimen was collected within the past year on private deeded property in Brewster County, Texas. You won't see any other dinosaur material from the Aguja Formation for sale because nearly all of the formation lies the borders of either Big Bend National Park or in Mexico which can not be collected. One of our partners was lucky enough to purchase several hundred acres of ranch land in Texas containing a good exposure of these formations and we will be offering more material from the locality in the future. The formation is the equivalent of the Judith River Formation in the Northern US/Canada.
LOCATION
Brewster County, Texas
FORMATION
Aguja Formation