45.3" Dinosaur (Diplodocus) Tibia with Stand - Skull Creek, Colorado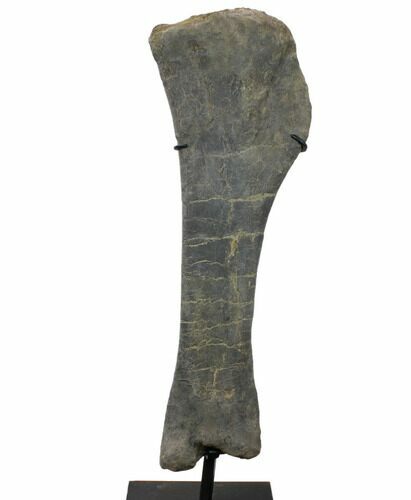 Due to the size and weight of this piece it will be shipped on a pallet or in a crate via freight. Our website can't automatically calculate freight shipping costs so these costs will be calculated and billed after purchase. Please contact us prior to purchase if you need a shipping quote.
This is a 45.3" long tibia from the left leg of a sauropod dinosaur (Diplodocus). It was collected this past summer from our partners private quarry east of Dinosaur, Colorado. The bone and the stand together weigh a whopping 188 lbs. The tibia is 45.3" long, 13.5" wide at its proximal end, 10.1" wide at its distal end and on the stand the entire specimen is 56.5" tall.
Overall the bone is very solid and in good condition. There is fractures with gap fill restoration throughout the bone which is to be expected on almost any dinosaur material. There was some erosion around the edges of both ends that has also been restored.
One of the best-known sauropods, Diplodocus was a very large long-necked quadrupedal animal, with a long, whip-like tail. It could reach up to 115 feet in length but had a relatively small skull, and a mouth full of small peg-like teeth it.
LOCATION
"Sutton Quarry", Skull Creek, Dinosaur, Colorado
FORMATION
Morrison Formation
SIZE
45.3" long, 56.5" tall on stand