7.5" Hadrosaur (Duck-Billed Dinosaur) Metatarsal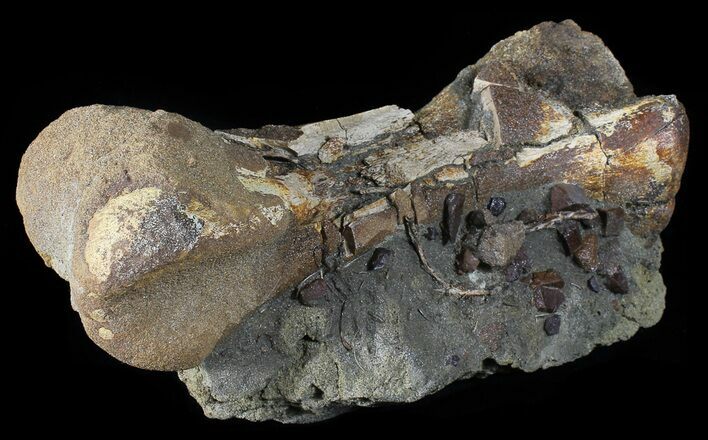 This is a 7.5" long Hadrosaur metatarsal (toe bone) from the Hell Creek Formation near Bowman, North Dakota. It comes from the species Edmontosaurus annectens and is Upper Cretaceous in age, 66 million years old.
It bone is displayed "as found", with it and the matrix heavily stabalized with glue. It makes a very interesting display to show what a bone might look like without any preparation. It stands up nicely on the base of the rock without a need for a display stand.
Hadrosaurs

are frequently referred to as duck-billed dinosaurs and are members of the Ornithischian family Hadrosauridae. They were fairly common herbivores which roamed Asia, Europe, and North America during the Upper Cretaceous Period. Many species of Hadrosaurs had distinctive crests on their heads, some of which had air-filled chambers that may have produced a distinct sound. These crests may have been used for both audio and visual display purposes.
SPECIES
Edmontosaurus annectens
LOCATION
Bowman, North Dakota
FORMATION
Hell Creek Formation