8.4" Hubbard Basin Petrified Wood Round With Crystal Pocket!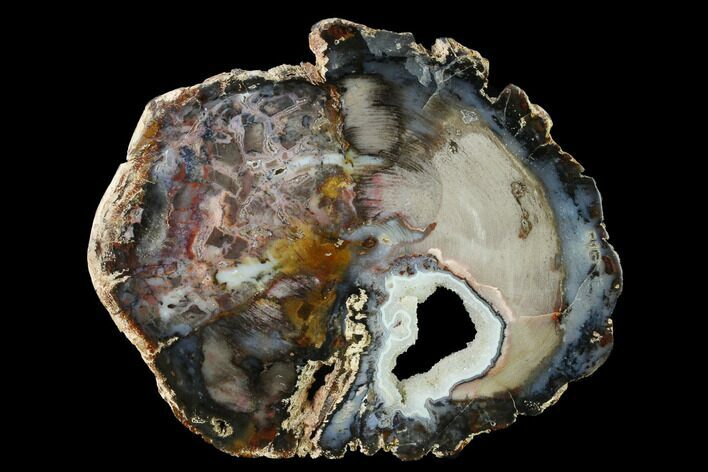 This is a beautiful, 8.4" wide round of colorful petrified wood from the Hubbard Basin in Nevada. It has a lot of unique patterning as well as a crystal lined cavity in the wood. Polished to a mirror like finish on one side. There is one stabalized crack near the edge.
It comes with an acrylic display stand.
Found only in Elko County, Nevada, Hubbard Basin petrified wood is becoming increasingly popular with collectors. This variety of petrified wood is characterized by its tan or white-blue coloring that is often enhanced by red, orange, or brown patterns. Most Hubbard Basin petrified wood is fossilized spruce wood from the Miocene age. One of the main reasons collectors enjoy this petrified wood is because the growth rings are often preserved nicely and show through the vibrant patterns.
AGE
Miocene

LOCATION
Hubbard Basin, Nevada
FORMATION
Jarbridge Ryolite Formation
SIZE
8.4 x 7.1", .6" thick