40" Fossil Alligatoroid (Diplocynodon) - Museum Quality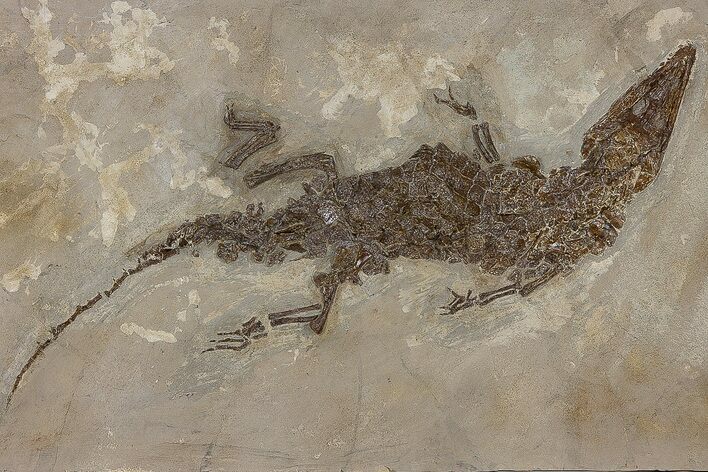 This specimen is truly a sight to behold! It is a very well preserved alligatoroid of the genus Diplocynodon, collected from the Miocene deposits of Gracanica, Bosnia-Herzegovina. The preservation of the fossil is unique in that the head is ventrally preserved and you can see by the visible ventral plates that it twists at the neck, leaving most of the specimen to be dorsally preserved. It measures 36.5" with a straightline measurement, but if outstretched to would have been approximately 40" long. It's nicely centered on a 41.3 x 22.8" slab of rock.
Diplocynodon is an extinct genus of alligatoroid that lived during the Paleocene to Middle Miocene in Europe. It looked very similar to the modern caiman in that it was small and had bony armored scutes covering its neck, back, belly, and tail. The longest Diplocynodon recovered was 4 feet in length and probably fed on small fish, frogs, and took insects when young.
The rock this specimen was found on is fairly thin and has been backed with an epoxy, fiberglass, and metal supports to stabilize it. Upon request we can add an additional backing and install wall mounting hardware to create a gorgeous wall display.
The specimen was collected in several pieces, so naturally there is some crack repair and gap fill restoration throughout the specimen. There is some minor restoration to the interior of the mandible, several scutes have undergone touchup restoration throughout the body, and some tail and distal appendage elements have been entirely restored. All in all the level of preservation is amazing.
Due to the size and weight of this piece it will be shipped on a pallet or in a crate via freight. Our website can't automatically calculate freight shipping costs so these costs will be calculated and billed after purchase. Please contact us prior to purchase if you need a shipping quote.
LOCATION
Gracanica, Bosnia-Herzegovina
SIZE
Alligatoroid: 40" long, Rock: 41.3 x 22.8"