8 Large Plesiosaur (Zarafasaura) Vertebra On Metal Stand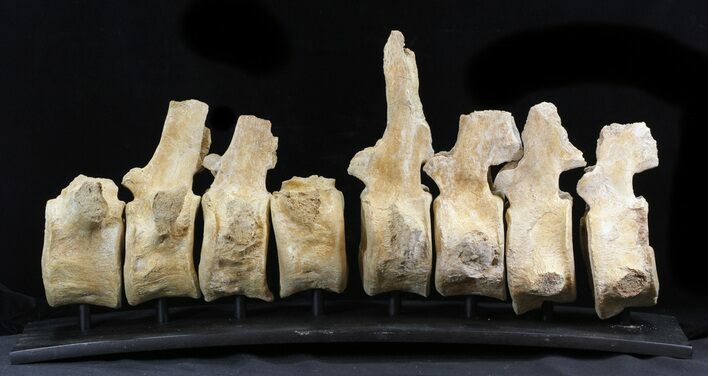 This piece is fairly heaving including the stand and UPS Ground shipping within the United States is included in the purchase price. International shipping is extra and would be billed after purchase. Contact us if you need an International shipping quote.
These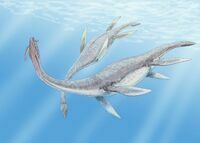 An artists reconstruction of a pair of Plesiosaur. By
Dmitry Bogdanov
are eight, large, associated plesiosaur (Zarafasaura oceanis) vertebra mounted on a custom metal stand. These vertebra were collected from the Upper Cretaceous phosphate deposits in the Oulad Abdoun Basin of Morocco.
The entire display measures 28 inches long and 8 inches wide. The tallest vertebrae including the process is 10.4". The centrums of all of the vertebrae are mostly intact and well preserved. The processes on the vertebra have varying level levels of completeness as they are more delicate and often broken prior to fossilization. There has been no restoration work down on the piece.
The stand is solid iron, painted black and weighs about 30 lbs. The vertebrae have been mounted via holes in the bottom of them allowing them to be place on metal pegs for display. It's a really cool, large display piece.
Plesiosaurs where long-necked marine reptiles with four flippers that appeared in the Triassic and died out along with the dinosaurs at the end of the Cretaceous period. They reached quite larges sizes, some species as long at 17 meters, and caught slow moving prey. Plesiosaurs breathed air, and bore live young; there are indications that they were warm-blooded.
This species of of Plesiosaur was redescribed from Plesiosaurus mauritanicus to Zarafasaura oceanis in a 2011 paper which can be found at:
A NEW SPECIMEN OF THE ELASMOSAURID PLESIOSAUR ZARAFASAURA OCEANIS FROM THE UPPER CRETACEOUS (MAASTRICHTIAN)OF MOROCCO
SPECIES
Zarafasaura oceanis
AGE
Upper Cretaceous

LOCATION
Oulad Abdoun Basin, Morocco
FORMATION
Phosphate Deposits
SIZE
Stand 28" long, 8" wide