.84" Very Rare Basal Sauropod (Spinophorosaurus) Tooth - Niger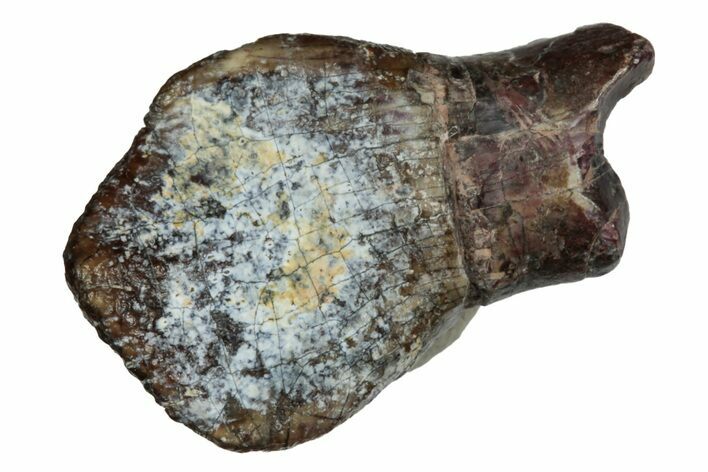 This is a very rare, .84" long Sauropod dinosaur tooth from the Téneré Desert of Niger. There are two sauropods formally described from the Jurassic of Niger, Jobaria and Spinophorosaurus. Their teeth look pretty similar but Spinophorosaurus from the Irhazer Formation had a serrated edge while Jobaria did not.
The tooth has a portion of the root present.
Spinophorosaurus was a sauropod, or long necked dinosaur from the middle Jurassic period of Niger, 136 million years ago. This large animal measured 43 feet in length from the end of its nose to the tip of its tail, and weighed an estimated 7 tons. As far as larger sauropods go, Spinophorosaurus exhibited a variety of more basal traits in the sauropod family tree; these include a smaller braincase shaped more similarly to primitive sauropods, as well as adjustments to the shape of the vertebrae to lengthen the rear half of the body. It was, like all other sauropods, an herbivore that at adult size, had little to fear from large predators.
SPECIES
Spinophorosaurus nigeriensis?
LOCATION
Agadez Region, Niger
FORMATION
Irhazer Formation?