This Specimen has been sold.
.85 Inch Tyrannosaurid Tooth, T-Rex or Nanotyrannus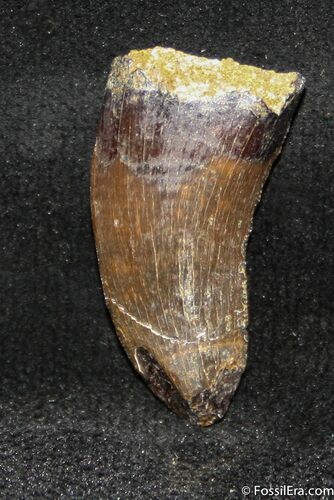 Here is a small partial tooth of either a Juvenile T-Rex or a Nanotyrannus lancensis from the Hell Creek Formation of Montana. There is a lot of debate in the paleontological community about whether Tyrannosaurus rex and Nanotyrannus lancensis are really just the same species, see video below.
The tooth is mostly complete missing the tip but has good enamel preservation and some of the serrations are still visible along the edges. Large, high quality Tyrannosaurus costs often sell for thousands but this is an inexpensive example of one of the most collectable types of dinosaur teeth.
SPECIES
Tyrannosaurus rex or Nanotyrannus lancensis
LOCATION
Carter County, Montana
FORMATION
Hell Creek Formation