9.4" Hadrosaur Jaw Section With Three Teeth - Judith River Formation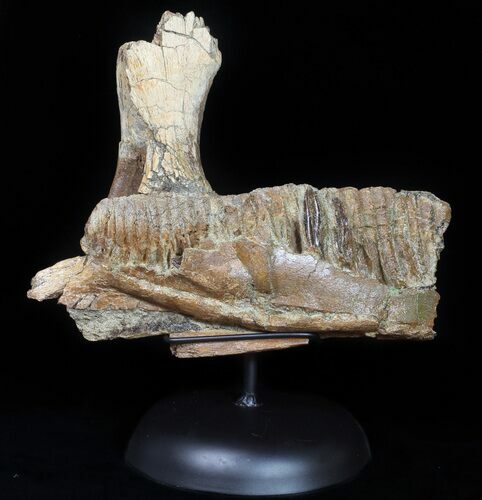 This is a very cool, partial jaw of a Hadrosaur (Duck-Billed Dinosaur) from the Judith River Formation. It was collected this past summer from one of our partners leases in Hill County Montana. The exact species is unknown because there are quite a few different Hadrosaurs described or possibly present in this formation (Brachylophosaurus, Kritosaurus, Lambeosaurus, etc) so identifying isolated bone material is mostly a guess.

It's beautifully preserved, and measures 9.4" long and 8" tall. There are three teeth still in place, one which is in excellent shape and 1.5" long, another next to it which is crushed and then you can also see the tip of an unerupted tooth growing into place! Comes with a custom metal displays stand.
SPECIES
Unidentified Hadrosaur
LOCATION
North Central Montana
FORMATION
Judith River Formation