Allosaurus Leg On Custom Mount - Reduced Price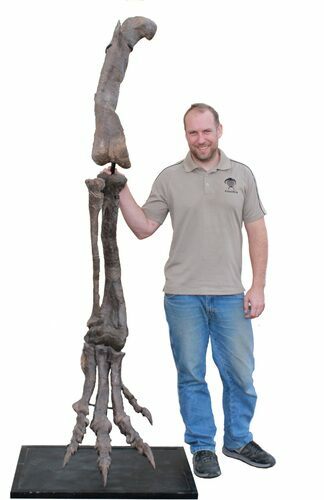 This a mounted, leg of one of the most fearsome predators to ever stalk the planet, the fearsome Allosaurus. This leg was collected in the spring of 2016 by our partner company Dinosaurs of America, on their lease in Big Horn County, Wyoming. It was then meticulously prepared from the hard sandstone matrix in their lab, and mounted on a custom steel display stand.
The limb stands is approximately 6 feet tall, standing 7 feet tall on the metal stand. Restoration is fairly minimal compared to much of the mounted dinosaur material you might see in a museum. Nearly all of the bones are real, the only ones that are casts is the Astragulus (small ankle bone), and one toe bone on the "pinky" toe. The top of the tibia has been restored and there is the usual crack fills, and some surface restoration where there was erosion.
Several near complete individual Allosaurs were collected from the quarry two of which are now or will soon be in major museums. This leg is from an individual that was not complete enough to construct a full skeleton from.
Buyer pays for shipping & insurance. Full documentation including quarry photos will be provided to the buyer.
Please
contact us
for more information or specific purchase terms.
Allosaurus was a theropod of the Late Jurassic that lived from 156 to 145 million years ago. It was a predator with a massive skull, serrated teeth, and gaping jaws. This powerful and plentiful carnivore genus could grow more than 30 feet long. Due to how plentiful it's fossils are in the Morrison Formation, it's been suggested that they may have been a pack hunter.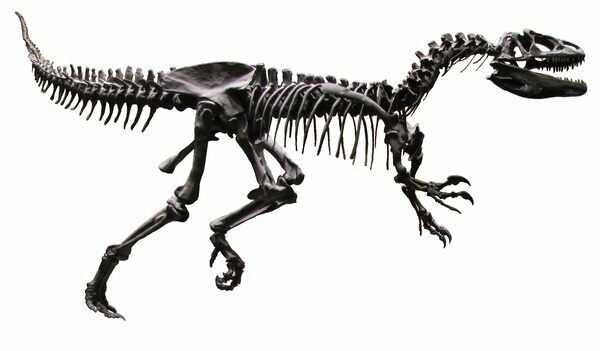 LOCATION
Private Quarry, Big Horn County, Wyoming
FORMATION
Morrison Formation
SIZE
6" tall, approximately 7" tall on stand,