Ammolite Pendant With Sterling Silver & White Sapphires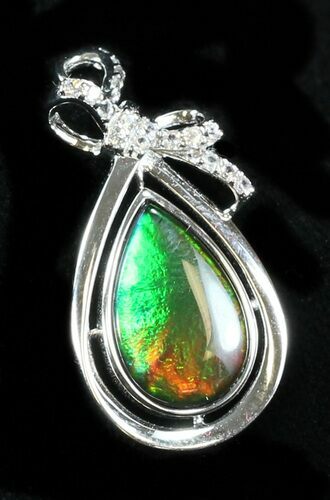 Ammolite is an opal-like, gemstone found found primarily in Alberta, Canada. It is made of the fossilized shells of ammonites, which in turn are composed primarily of aragonite, the same mineral contained in nacre, with a microstructure inherited from the shell. An iridescent opal-like play of color is shown in fine specimens, mostly in shades of green and red; all the spectral colors are possible, however.

This is a high quality, ammolite pendant produced by Korite. The piece of ammolite used has been selected for it's brilliant coloration, set in sterling silver and accented with white Sapphires.

The Ammolite is mined near Lethbridge, Alberta and comes out of the Bearpaw Formation which is Late Cretaceous (70 million years old) in age. Most of it comes from the fossilized shells of the ammonite Placenticeras. Complete ammonite specimens composed entirely of Ammolite are very rare finds in these mines and typically small fragments are found. The highest quality of these pieces with the best color are used to produce Korite jewelry.
LOCATION
Southern Alberta, Canada
FORMATION
Bearpaw Formation