This Specimen has been sold.
Ammonite + Trilobite Pendant - Sterling Silver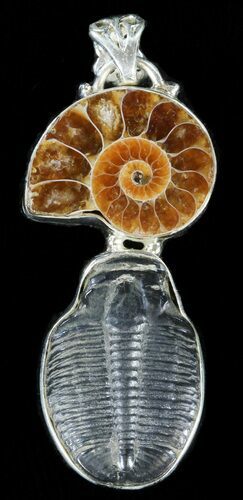 Every wanted to wear a 505 million year old fossil around your neck? Here's your chance, this an unique, sterling silver pendant featuring a real Elrathia kingii trilobite collected from the Wheeler Shales of Utah. There is also an ammonite fossil (Desmoceras) which is approximately 110 million years old from Madagascar. The ammonite has been cut and polished to reveal the beautiful, inner chamber detail.
SPECIES
Desmoceras (Ammonite) & Elrathia kingii (Trilobite)
LOCATION
Madagascar (Ammonite) House Range, Utah (Trilobite)
FORMATION
Wheeler Shale (Trilobite)