Beautiful Anterior Gorgosaurus Tooth - Rare!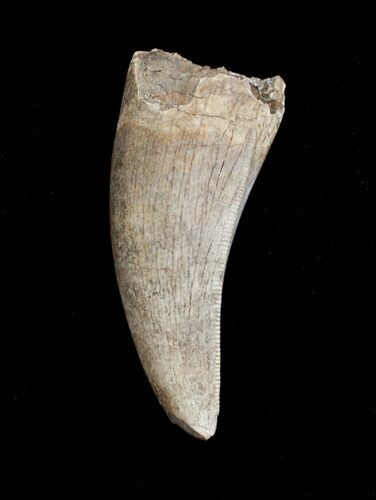 Note: The exact species ID of this tooth is currently up for dispute. I've run it by three experts one of which has said probably Gorgosaurus, one has said probably Daspletosaurus and one has said it could be either. As dinosaur tooth collectors know theropod/Tyrannosaurid teeth are notoriously hard to tell apart and the differences can be very subtle. I'll update the listing when I feel more confident about the exact species identification. But regardless it's a great Tyrannosaurid tooth of a rare species from the Judith River formation.
This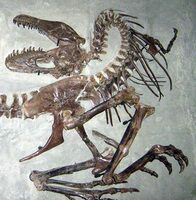 Sub-adult Gorgosaurus specimen in "death pose" at theRoyal Tyrrell Museum of Palaeontology.
is a rare dinosaur tooth from the Two Medicine Formation (Judith River Group) from a Gorgosaurus. The tooth is 1.65 inches in length and beautifully preserved. It has a nearly flawless, white to light tan colored enamel, well preserved serrations and just a bit to natural feeding wear to the tip. There is no restoration of repair on the tooth.
It's currently unclear with the Gorgosaurus out of the Two Medicine Formation (Judith River Group) is the same type species Gorgosaurus libratus or represents a new species.
Gorgosaurus is a genus of tyrannosaurid theropod dinosaur that lived in western North America during the Late Cretaceous Period. It was small in size that Tyrannosaurus rex, probably reaching a maximum size of about 9 meters in length and just over 2 tons in weight. It shared its general body plan with all other tyrannosaurids and probably preyed upon the abundant ceratopsids and hadrosaurs. It's fossils have been frequently found in Alberta, but specimens are rare from the Two Medicine Formation (Judith River Group) in Montana.
LOCATION
North Central Montana
FORMATION
Two Medicine Formation, Judith River Group
SIZE
1.65" long (straight line)