Beautiful 3.23" Daspletosaurus (Tyrannosaur) Tooth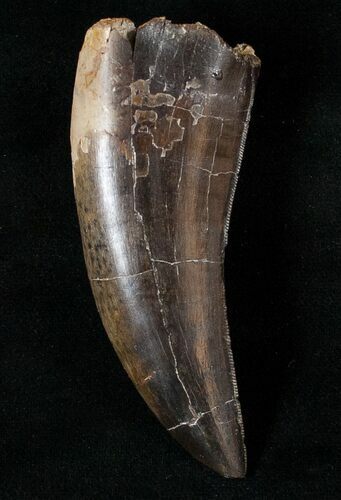 This is a very impressive Tyrannosaur tooth from the Two Medicine Formation (Judith River Group) of Eastern Montana. Not only is it huge at 3.23" in length, but the preservation is spectacular, and it has remarkably little restoration. There are three known Tyrannosaurs in the formation, Daspletosaurus, Gorgosaurus and Albertosaurus and their teeth are nearly identical but given the size this one is almost certainly from the largest one, Daspletosaurus.

It was found in several pieces and repaired but the only restoration consists of some small gap fills in the cracks. Maybe only about 2-3% of the enamel of the tooth has been restored. The inner serrations are about 85% complete and most of them have little wear. The outer serrations are worn but there is very little feeding wear to the tip. A very nice tooth overall.
LOCATION
North Central Montana
FORMATION
Two Medicine Formation, Judith River Group