Rare Deltadromeus Tooth - 2.08 inches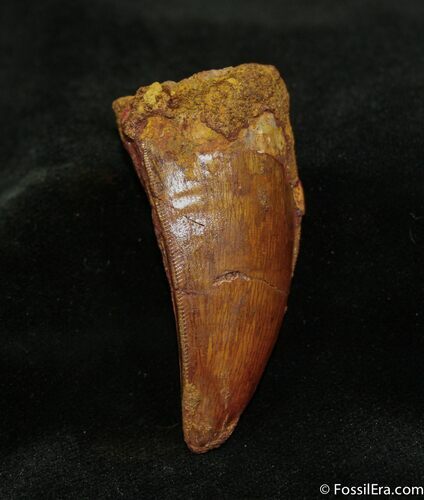 Here is a rarely offered tooth from the the giant theropod dinosaur Deltadromeus agilis. It is just over two inches long and has great enamel and serrations. There is a repaired crack through the middle, but otherwise it's a spectacular tooth.
Note: Many dealers are mistakenly selling smaller raptor teeth from the Tegana Formation mislabeled as Deltadromeus. Real Deltadromeus are rare and are much larger than these small (.5-1 inch) raptor teeth.
Deltadromeus agilis is a meat-eating theropod dinosaur thought be very similar to a ceratosaur. Based on reconstructions it is estimated to reach nearly 25 feet in length and weight close to 4 tons. This would have put it in a similar size category with T-Rex but it had a much more delicate body profile adapted for being speedy and agile (hence the name)
The Tegana Formation where these teeth are found is well known for producing a very diverse Upper Cretaceous fauna which also included two other meat eating giants,
Spinosaurus
and
Carcharodontosaurus
.
SPECIES
Deltadromeus agilis
LOCATION
Taouz, Kem Kem Basin, Morocco
FORMATION
Tegana Formation