Rare, 1.7" Alvarezsaurid (Albertonykus?) Finger Bone & Claw - Montana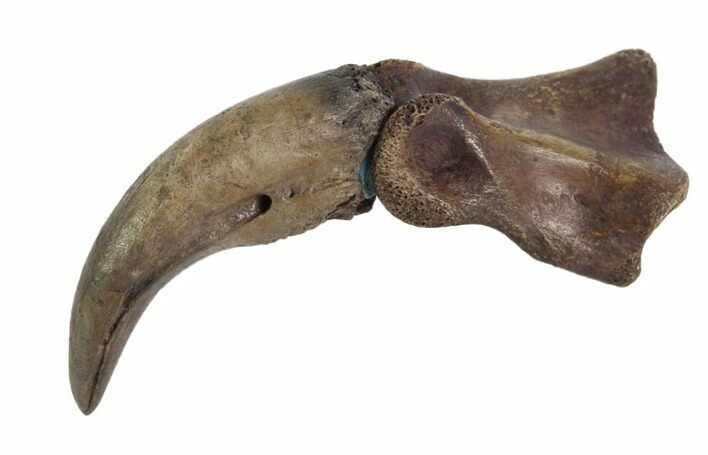 This is phenomenally well-preserved claw and finger bone from an Alvarezsaurid dinosaur (Albertonykus borealis?) from the Hell Creek Formation of Montana. The finger bone articulates nicely, however I am unclear if the two bones belong to the same individual. The claw measures 1.05" long and the adjacent finger bone is .87" long, both of which are accompanied by a black Riker mount display case.
There is a tiny fracture that was filled about 1/3 of the way from the tip of the claw but the claw was never broken all the way through. The tip has been stained because it was slightly discolored due to exposure. There has been no restoration or repair other than that.
No Alvarezsaurids have officially been described from the Hell Creek Formation, though other rare, isolated material has been reported. Albertonykus borealis was described from the similarly aged Horseshoe Canyon Formation in Alberta to the north, and the Hell Creek Formation material may represent the same, or very similar species.
NEW ALVAREZSAURID MATERIAL FROM THE HELL CREEK FORMATION, MONTANA
Albertonykus borealis, a new alvarezsaur (Dinosauria: Theropoda) from the Early Maastrichtian of Alberta, Canada: implications for the systematics and ecology of the Alvarezsauridae
Alvarezsaurids are a group of small, long-legged dinosaurs. Although originally thought to represent the earliest known flightless birds, a consensus of recent work suggests that they evolved from an early branch of maniraptoran theropods. Alvarezsaurids were highly specialized. They had tiny but stout forelimbs, with compact, bird-like hands. Their skeletons suggest that they had massive breast and arm muscles, possibly adapted for digging or tearing.
SPECIES
Albertonykus borealis?
LOCATION
Carter Creek, Montana
FORMATION
Hell Creek Formation
SIZE
1.05" long claw and .87" long finger bone