Edmontosaurus (Hadrosaur) Bones In Rock - Wyoming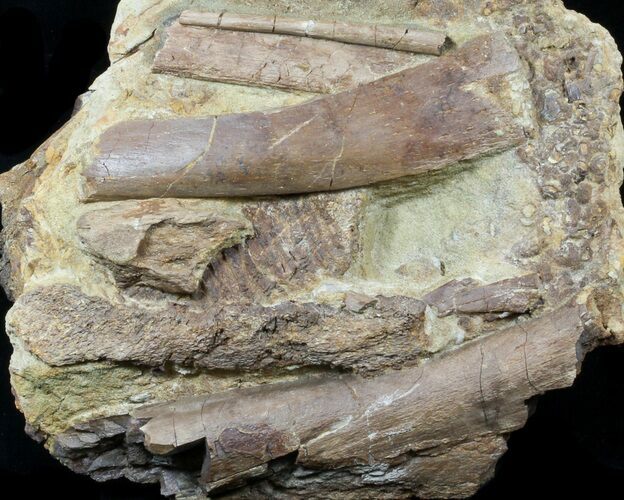 This is a really cool fossil from the Late Cretaceous, Lance Creek Formation of Wyoming. It's a piece of sandstone containing numerous partial Hadrosaur (duck-billed dinosaur) bones. There is a jaw fragment, several partial ribs, and some partial limb bones. If you look closely there is even a few teeth partially exposed. The piece is nicely prepared to expose the bones. Comes with a display stand.

The Lance Creek Formation in Wyoming is the equivalent of the Hell Creek Formation farther north in Montana and the Dakotas. Edmontosaurus is a Hadrosaur, more commonly known as a Duck Billed Dinosaur and the most commonly found dinosaur in these formations. It had a massive battery of teeth which it used to grinding up the plants that it ate.
SPECIES
Edmontosaurus annectens
FORMATION
Lance Creek Formation