This Specimen has been sold.
Edmontosaurus (Hadrosaur) Jaw Section - Cyber Monday Deal!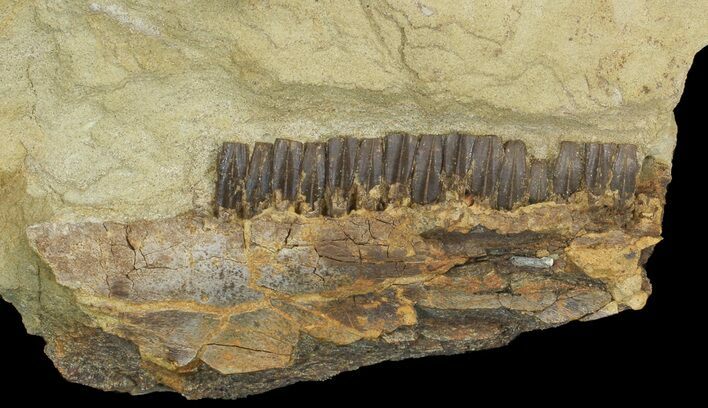 This is a very unique fossil from the Lance Creek Formation of Wyoming. It's a section of sandstone containing a 5.5" long Edmontosaurus jaw section and several other bones including a rib section. What makes this so special is the jaw section still retains many of it's teeth still in place and spectacularly preserved. In most cases the teeth will become seperate from the jaw prior to fossilization.

The Lance Creek Formation in Wyoming is the equivalent of the Hell Creek Formation farther north in Montana and the Dakotas. Edmontosaurus is a Hadrosaur, more commonly known as a Duck Billed Dinosaur and the most commonly found dinosaur in these formations. It had a massive battery of teeth which it used to grinding up the plants that it ate.
SPECIES
Edmontosaurus annectens
FORMATION
Lance Creek Formation
SIZE
Jaw 5.5", Matrix 10x8.6"