Extremely Rare 3.5" Torvosaurus Tooth - Skull Creek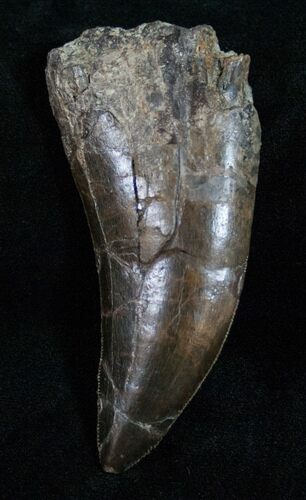 This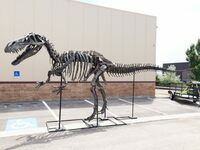 Elvis the Torvosaurus from the Skull Creek Quarry
is a very special offering, a large and extremely rare Torvosaurus tooth from Skull Creek Quarry near Dinosaur, CO. To my knowledge this is one of only a few true Torvosaurus teeth ever offered for sale online. This tooth comes from the same quarry (different layer) as the recently announced
"Elvis" Torvosaurus specimen
, the first near complete Torvosaurus ever found. Prior to the discovery of this specimen Torvosaurus had only been known from fragmentary remains at a few locations in the Morrison Formation and Portugal.
Only a handful of Torvosaurus teeth had previously been found and this is one the only large Torvosaurus teeth recovered from the quarry which was not associated with Elvis skeleton. It's 3.5" long and this massive size alone would set it's teeth apart from the other theropods in the Morrison Formation. It bears the distinctive serration pattern, with serrations on the outer edge only running about 2/3 of the way down the crown. The tooth is in excellent shape with nice enamel and minimal feeding wear to the tip. The photos don't do justice to how big this tooth is, and how impressive it looks in your hand.
The only restoration is to do some gap fills where the pieces of the tooth were put back together. The last two photos, show where these gap fills are. This tooth was found in the summer of 2014. The photo below shows a view of the quarry at about this time period.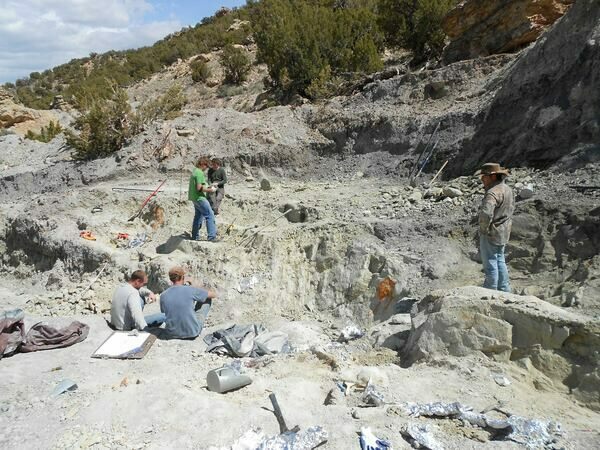 LOCATION
Skull Creek Quarry, Near Dinosaur, CO
FORMATION
Brushy Basin Member, Morrison Formation
SIZE
3.50" long (straightline)