Extremely Rare 34.5" Paddlefish - Green River Formation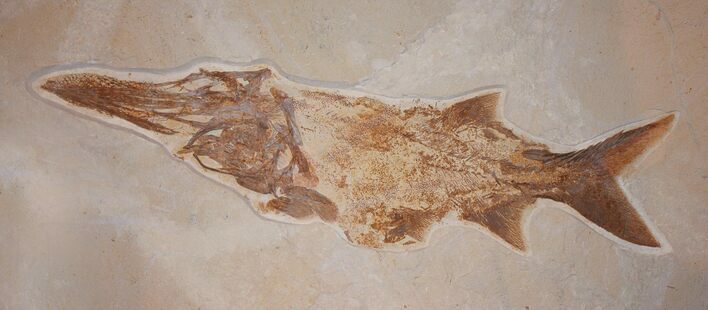 This is a extremely rare,
museum quality
, 34.7 inch long, fossil Paddlefish (Crossopholis) from the Green River Formation of Wyoming. It was collected this summer at Warfield's Quarry near Kemmerer.
Crossopholis are one of the largest and rarest fish found in the Green River Formation and this one is an exceptionally nice specimen. Crossopholis was a predator, with fossil evidence of it consuming small schooling fish such as Knightia eocaena. It's theorized that it did not live in fossil lake itself, but rather the rivers surrounding the lake because the the extreme rarity of it's fossils and complete lack of the remains of juveniles.
High end fossil fish collectors shouldn't miss out of this phenomenal specimen, you may not see another better gar from the Green River Formation.
If you wish to purchase this specimen please Contact Us to arrange payment and shipping.
LOCATION
Warfield's Quarry, Kemmerer, WY
FORMATION
Green River Formation
SIZE
34.5" long on 43.5x19" matrix