Five Articulated Stegosaurus Vertebae On Stand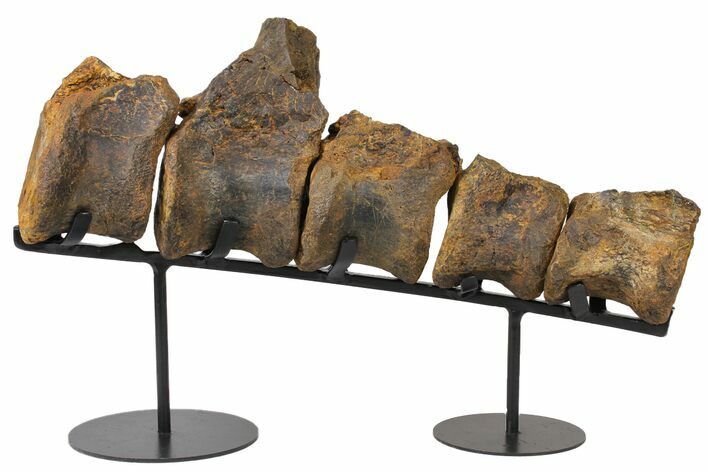 This is a string of five, articulated Stegosaurus caudal (tail) vertebrae that have been prepared and mounted on a custom, metal display stand. The entire string measures 20" long and stands 13" tall on it's display stand. These were found unprepared in a collection of old material which unfortunately didn't have any more specific locality information provided than Colorado.
Only one of the vertebrae has part of it's process still present. Three don't have any restoration, but the two smallest ones at the end of the string have some restoration along the edge of the centrum that was eroded.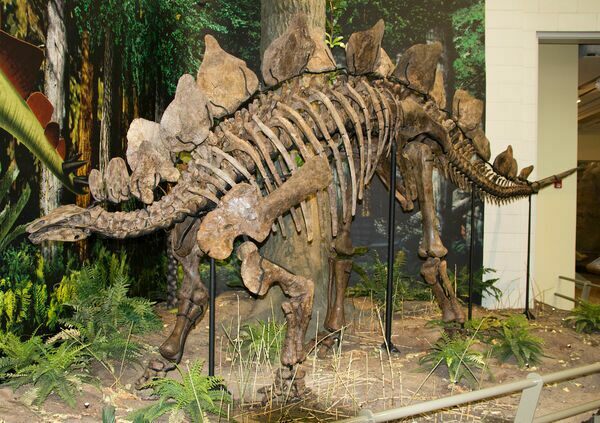 Mounted skeleton of a Stegosaurus in the Carnegie Museum of Natural History. Creative Commons License
Stegosaurus is one of the most recognizable dinosaurs in the world due to it's distinctive tail spikes and plates along it's back. There are so far 3 described species from the Upper Morrison Formation and it's been in the news quite a bit lately due to
"Sophie" the Stegosaurus
at the London Natural History Museum. Stegosaurus is the
state fossil of Colorado
.
FORMATION
Morrison Formation
SIZE
Largest Vert 4.1" long, entire string 20" long