Framed Priscacara & Knightia Association - 24x12.5"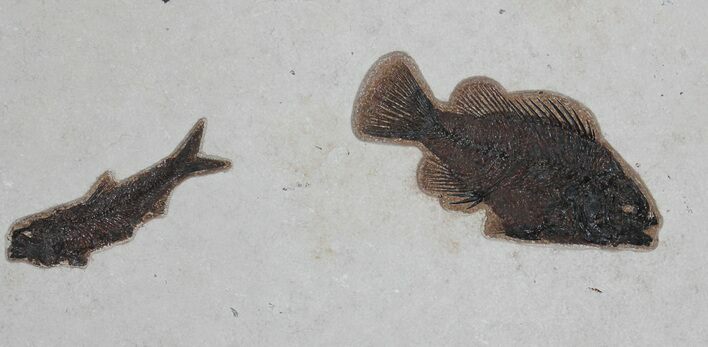 This is a beautiful association of a fantastically preserved large, 7.2 Priscacara serrata and a Knightia eocaena from the Green River Formation of Wyoming. It was collected from the 18 inch layer at Warfield's Quarry near Kemmerer. The 18 Inch layer produces much darker colored preservation than the other layers, but the fish take substantial preparation time as they are buried under the surface of the rock when found.

Excellent preservation and preparation work on with fish and the rock has been mounted in a black wood frame. It would look great hanging on your wall!
SPECIES
Priscacara serrata & Knightia eocaena
LOCATION
Warfield's Quarry, Kemmerer, WY
FORMATION
Green River Formation, 18 Inch Layer
SIZE
Priscacara 7.2", Knighta 5.4", Frame 24x12.5"